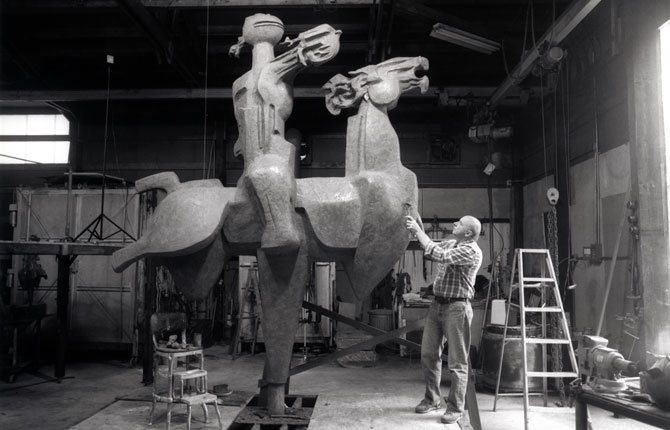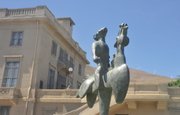 While the name James Lee Hansen probably doesn't rise to the level of household word in every Columbia Gorge home, chances are you've seen at least some of his work.
The Battle Ground, Wash., sculptor has produced more than 700 works during his 60-year career. Some are small studies, others large monuments that have graced government buildings, churches and corporate headquarters.
Some of the modernist sculptor's smaller works are featured in an exhibit at Maryhill Museum of Art.
"I wanted to show a representative sample of his work," said Steven Grafe, Maryhill's curator of art.
Hansen has a connection of some years with the museum. He gave the museum a gift of some casts of petroglyphs. Hansen was instrumental in recording many prehistoric petroglyphs above The Dalles and John Day dams. He traveled to petroglyph sites and made wax molds of the ancient art, then later cast stone facsimiles for public display.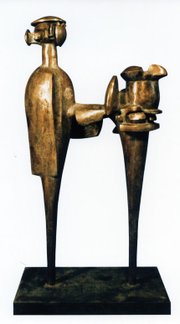 "Almost all of his work has some kind of literary component," Grafe said. "He wrote a lot of poetry."
He often worked in series, with lyrical names such as Guardian, Explorer, Huntress and his Equestrian series, one of which is on loan to Maryhill's sculpture garden.
"The way he works on a series, he may do one in a series and come back to the series 10 years later," Grafe said. "It isn't working in linear fashion. It's like a pebble in water — concentric."
Hansen always knew he was an artist. After serving with the Navy during World War II, he returned, attended the Portland Art Museum School (now the Pacific Northwest College of Art) and built a home, studio and foundry northeast of downtown Vancouver, where he and his wife, Annie, lived. He graduated from the art school in 1950.
"…and with a foundry at his disposal, he soon became a West Coast pioneer and recognized master of lost-wax bronze casting," Grafe wrote in a biography of the artist for the exhibit.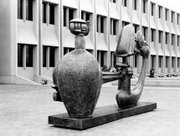 His largest works soon graced the Washington State University campus in Pullman, the state capitol in Olympia, Wash., the dorms at the University of Oregon in Eugene, and a number of locations in Portland, including the Schnitzer Steel offices, Oregon Health and Science University, the Bureau of Land Management office, and the downtown transportation mall, among others. He was also part of a fine-arts collaborative called "Builders Arts" responsible for fine art development for the Oregon Centennial Exposition, Grafe wrote. Much of the work was installed at the new Sheridan Hotel next to Portland's Lloyd Center. Among the works were five large murals.
Grafe's favorite work in the Maryhill exhibit is from the Missive series which he describes as depicting "a meteorite coming from space with some kind of sea pod or life pod attached to the back riding it into the world."
The series was inspired by Immanuel Velikovsky's book, "World in Collision," which discussed the theory that cataclysmic events in the solar system changed Earth's orbit and axis, Grafe wrote.
"The series is small but noteworthy because, apart from the distinct facial features that appear on some of Hansen's Explorer heads, the sculptures are the only ones that represent actual objects, which in this case are tektites, or small meteors."
Online:
www.maryhillmuseum.org
www.jamesleehansen.com
NEXT TOP STORY: Harriers blast off at Rocket run