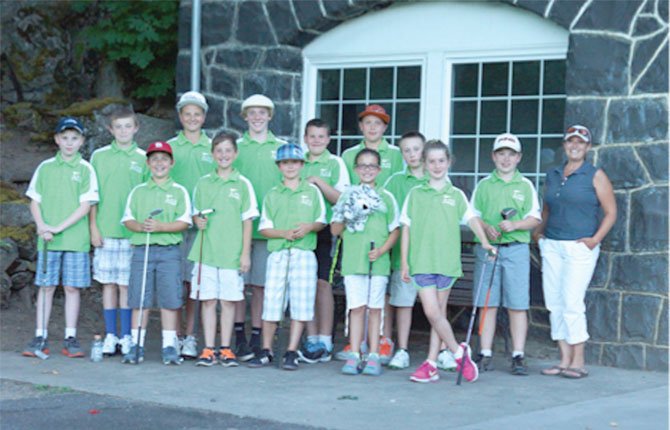 The Dalles Golf and Country Club Junior PGA team continued its winning streak by beating the Hood River Indian Creek team during two more match plays.
At the end of June, The Dalles team traveled to Hood River's Indian Creek Golf Course for their second match play against the Indian Creek team.
With rain on the horizon, strong westerly winds and the Indian Creek team playing on their home course, The Dalles golfers had their work cut out for them.
Five groups of golfers set off from Hole 1 and two hours later the team results came in, with The Dalles once again besting Hood River by a score of 9 to 6.
Throughout the match there were some amazing long drives, accurate chips and PGA putts.
For the final match against Indian Creek, the Hood River golfers traveled back to The Dalles in early July. Again five groups of golfers set off for match play and played nine holes.
Many of the holes were won or lost by one stroke.
At the end of the evening, on the ninth hole, a loud cheer was heard across the golf course; The Dalles golfer Chad Klaas had chipped onto the green and dropped the ball into the cup, getting an Eagle on a par-4 hole and winning that match for his team.
At the end of the evening The Dalles won by a score of 8 to 7 to remain undefeated.
TD Junior Golf Coach Amy McCormack was obviously pleased with the way her first-year squad performed, both at Indian Creek and then again back in The Dalles.
"Every time I watch these kids play I am impressed with their enthusiasm, sportsmanship and camaraderie," McCormack said. "Since the adults are not allowed to coach once play starts, it's all up to the kids. I love watching the more experienced players help their teammates and then see the satisfaction that all the players get when they hit the ball well, that's what golf is all about."

This year, the 16 members of The Dalles Jr PGA team were sponsored by eight local businesses, including Waste Connections, Oil Can Henry's, Maupin Stoves and Spas, Motel 6, CH Urness, MCMC Sports Medicine, Oregon Equipment and Northwestern Mutual.
McCormack also commends the leadership of The Dalles Golf and Country Club and Bob Sproule as well.