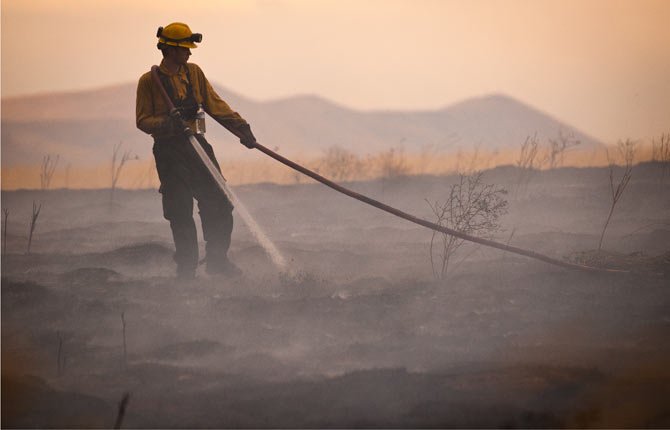 Fire crews in Dallesport and Wishram worked to contain three fires Sunday afternoon, with both stations going to second alarm status. In Dallesport, lightning struck a power pole between The Dalles Airport and Highway 14, sparking a blaze that was spread quickly by strong winds.
Additional lightning strikes had Oregon Department of Forestry and National Forest fire personnel scrambling as well, with several fires reported.
Lightning also ignited fires near the White River Fire, which started Saturday and continues to burn.
FIREFIGHTERS HOLD WHITE RIVER FIRE AT 570 ACRES
The White River Fire has burned approximately 570 acres of mixed conifer forests, oak woodland, and grass savannahs in the White River Canyon, 12 miles west of Tygh Valley. (The acreage change from the afternoon update of 750 acres is due to better mapping.) No structures are immediately threatened by the fire, but there are widely scattered homes, cabins, and other structures around the fire's fringe. The nearest community is Pine Grove, approximately 2.5 miles south of the fire.
There were 380 firefighters assigned to day shift today, and 65 firefighters will be working overnight. The fire did grow larger today, and is 15 percent contained.
The cause of the fire, which started Saturday, is being investigated.
White River Canyon is designated as a wilderness, managed by the Bureau of Land Management, and is steep and extremely hazardous. Suppression tactics inside the wilderness must be conducted to minimize impact on natural resources.
Hotshot crews are working inside the canyon to construct fireline and fell dangerous snags. The south end of the fire will be hit hard tonight by crews doing mop-up.
Helicopters supported firefighters today by delivering buckets of water onto hot spots. However, persistent thunderstorm activity limited their flying time. Five Type II (medium) helicopters will be assigned to the fire on Monday, as well as two Type III (light) helicopters.
The fire is being fought by an Oregon Department of Forestry Incident Management Team led by John Buckman. Much of the land inside the fire area is managed by the Bureau of Land Management as a wilderness area. The Oregon Department of Fish and Wildlife has some wildlife conservation land inside the burned area, and several tracts of private land are affected by the fire.
The Mt. Hood National Forest, Barlow Ranger District, is working with Oregon Department of Forestry to ensure public safety while recreating on the White River. Because the White River Fire is burning on both sides of the river, making the riverbank unsafe and causing visibility problems due to smoke, the Mt. Hood National Forest is asking kayakers to hold off using the Keeps Mill Campground launch site and others on the Forest until river passage is safe.
ODF social media sites for White River Fire Information
ODF Wildfire Blog at http://wildfireoregondeptofforestry.blogspot.com/
ODF Facebook: https://www.facebook.com/oregondepartmentofforestry
ODF Twitter: https://twitter.com/ORDeptForestry