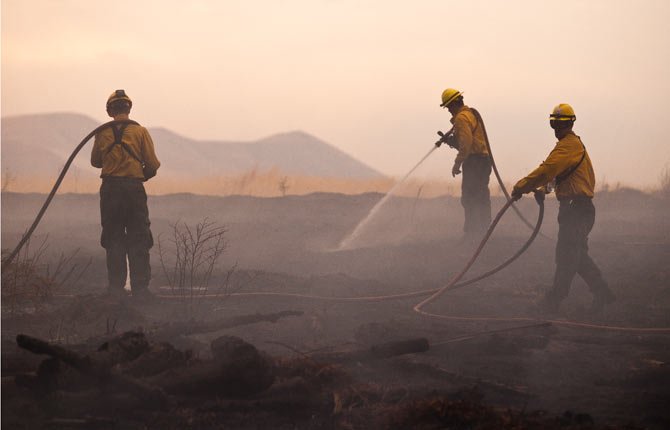 Oregon fire officials estimated that about 3,400 lightning strikes occurred across the region Sunday and started dozens of fires, mostly small but some sparked fires that are threatening homes on the Warm Springs Indian Reservation.
White River Fire remains active
The biggest blaze remains in the White River Canyon, 12 miles west of Tygh Valley, where 450 firefighters are working in steep and rugged terrain. It started Saturday, cause of that fire is under investigation.
The fire was considered 45 percent contained as of Monday morning, according to Brian Ballous, information officer for the Oregon Department of Forestry.
"It's going well and we have solid fire lines around it," he said. "We're in pretty good shape, although it's too dangerous to have crews working at night."
He said there are conifers and Ponderosa Pine on the south end of the canyon and oak trees and grasslands on the north end, all fuels that have, or could, feed the fire.
However, if Monday's heat isn't accompanied by wind, he said progress should continue on containment of the blaze.
Ballous said the cause of the blaze that began shortly before 3:30 p.m. Saturday, July 12, is still under investigation.
Although the original size of the fire was estimated at 750 acres, he said mapping revisions Sunday brought the affected acreage down to 570 acres.
"We are probably going to be keeping the same level of manpower over the next couple of days," said Ballou. "I think that leaves us in pretty good shape to keep down any flare-ups."
He said there are 15 different crews at work, including three corrections crews supervised by ODF, private contractors and two Hotshot teams from the U.S. Forest Service.
No structures have been threatened by the fire, although there are scattered homes, cabins and other buildings near its perimeter. The community nearest the fire is Pine Grove, about 2 and one-half miles to the south.
much of the land inside the White Canyon fire area is management by the Bureau of Land Management as a wilderness area, which requires firefighting activities to minimize damage to natural resources.
The Oregon Department of Fish and Wildlife has some wildlife conservation land inside the burned area, and several tracts of private land are also affected.
The Mt. Hood National Forest has asked kayakers to not use the Keeps Mill campground launch site and others on the White River until passage is safe.
Lightning sparks multiple 'smokes.'
Thunderstorms that rolled through the region July 13 resulted in 65 smoke reports, according to the Central Oregon Interagency Dispatch Center in Prineville.
"Few areas were left unaffected by the lightning," said the agency's Sunday night update.
The National Weather Service issued a red flag warning that applied until early Monday morning for areas to the north and east of high desert country.
A home has been threatened in Wheeler County and two structures destroyed in a 375-acre blaze, mostly on Bureau of Land Management property about two miles north of the junction of highways 207 and 19.
Meanwhile, about 45 miles northeast of Kalamath Falls a home and other structures have been lost to a600-acre fire in heavy timber and brush on private land. More than 100 people were evacuated from a subdivision during the evening of July 13.
There were reportedly hundreds of lightning strikes on the Warm Springs Reservation and nine small fires, some threatening structures.
ODF officials reported that residents of two homes were urged to leave Sunday evening due to the proximity of four fires that had burned 30-plus acres on Shaniko Butte. Also put on alert was a community of eight to 12 homes five miles south of those blazes.
While most of the lightning-sparked fires were small – a single tree west of Bend – a 40 to 60 acre fire was ignited about three miles north of the Klamath-Deschutes County border.
Fires were also reported in Cow Creek Canyon, about nine miles southwest of Antelope, near Sisters, in the Maury Mountains and on Mt. Bachelor. A 40-acre fire was also being fought in the Willamette National Forest.
In Wasco County, a vehicle striking a power pole on Highway 29 started a fire that burned about 60 acres east of Antelope.
A 100-acre fire east of Madras is believed by ODF to be human-caused and appears to have started on a disc golf course.
On the Washington side of the Columbia River, three fires were sparked by lightning, one in Dallesport, and two in or near Wishram.
NEXT TOP STORY: Rural shooting injures one