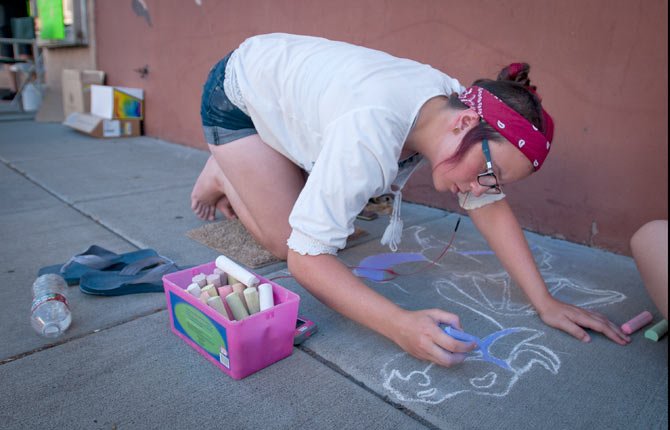 Fort Dalles Days is officially in full swing this week, having kicked off (and we do mean kick) Friday evening with a chili cook-off at The Mint, followed by the big downtown shindig, Jammin' July Street Fest July 12.
Sweltering heat or not, this event always brings big crowds into downtown The Dalles with plenty of music, an old-fashioned shoot-out, some good-natured competition (via chalk and microphones) and plenty of food and libations.
It's really no surprise that the Fort Dalles Days celebration takes a full 10 days to complete, because it's more than just one celebration. It's a gathering of many celebrations coming together under a trio of umbrellas.
The Fort Dalles Rodeo Association puts on the big, three-day Fort Dalles NPRA Pro Rodeo over three days this coming Thursday through Saturday (and don't forget slack on Wednesday) with all the attendant dinners, dances and side activities.
The local history organizations create a slate of history-themed activities throughout the week including everything from museum open houses to themed talks to children's day camps to re-enactments of pioneer activities — and even a camp revival at Pulpit Rock.
The aforementioned Jammin' July Street Fest is the third arm of the party, coordinated by The Dalles Main Street, but involving a whole host of businesses working hard to put on an extravaganza of fun.
How many communities wrap up three festivals into one sustained gala celebrating of their town and its heritage?
And how many people turn their individual visions into reality to add to the entertainment?
Take Karen Stewart, for example, who had an idea for a chalk art contest and put her time and sweat into making it happen.
Take Eloy Pando, as another example. Pando built up a popular Karaoke contest and tied audtions to the Jammin' July Street Fest. Now he hopes to parlay that start into a regional reality show featuring talented Oregonians.
Take the band members of Barley Draught, who enjoy playing traditional music together — even better if it's for a good cause. They complete the old-time feel of the event with the Scottish, Irish and American folk music that sounded throughout our area 150 years ago.
And take Aaron Auer as an example, not a local resident, but a regular visitor who has a passion for telling the story of preacher Jason Lee and his Christian work in the Oregon Territory.
And let's not forget the mainstay organizations that have been at their job for years and years. The Fort Dalles Rodeo Association will celebrate 50 years of rodeos next year. Jammin' July has been a downtown mainstay for more than a decade. And Fort Dalles Museum, one of the primary locations for the Historic The Dalles Days portion of the celebration, is the oldest history museum in Oregon.
This blend of old and new, of individual and group efforts, has evolved into a massive celebration that just couldn't be done any other way.
Our thanks to all the folks who make it happen.