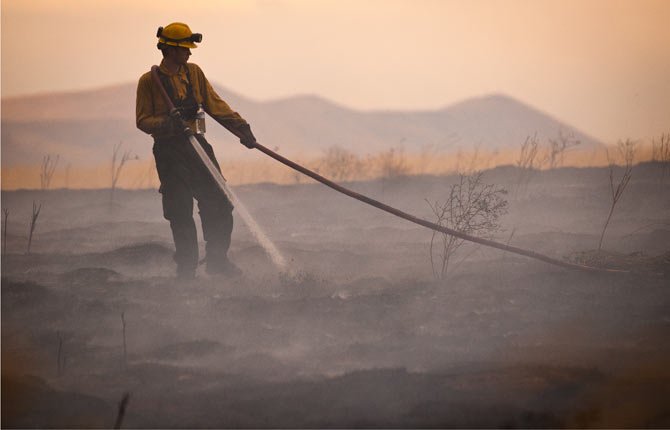 Oregon fire officials estimated that about 3,400 lightning strikes occurred across the region Sunday and started more than 100 fires, mostly small but some threatening homes on the Warm Springs Indian Reservation.
One of the strikes sparked a small fire on the City of The Dalles watershed where 2,600 acres burned in last year's Government Complex fires.
The city owns about 5,000 acres in that area to the south of the city.
"[The fire] is in a fairly accessible area," Dave Anderson, public works director, told the city council at Monday's meeting.
He said 20 acres had burned and Nolan Young, city manager, said forest service firefighters were "aggressively" battling the blaze to keep damage to the watershed as minimal as possible.
One of the biggest blazes to ignite during the weekend remains in the White River Canyon, 12 miles west of Tygh Valley, where 460 firefighters are working in steep and rugged terrain.

The fire was considered 65 percent contained as of Tuesday morning, according to Brian Ballou, information officer for the Oregon Department of Forestry.
"It's going well and we have solid fire lines around it," he said. "We're in pretty good shape, although it's too dangerous to have crews working at night."
He said there are conifers and Ponderosa Pine on the south end of the canyon and oak trees and grasslands on the north end, all fuels that have, or could, feed the fire.
However, if Tuesday's heat isn't accompanied by wind, he said progress should continue on containment of the blaze.
Ballous said the cause of the blaze that began shortly before 3:30 p.m. Saturday, July 12, is still under investigation.
Although the original size of the fire was estimated at 750 acres, he said mapping revisions first lowered the affected acres to 570 acres but then brought it back up to 652.
"We're hoping to be able to turn this back over to local forces by the weekend," said Ballou.
He said there are 15 different crews at work, including three corrections crews supervised by ODF, private contractors and two Hot Shot teams from the U.S. Forest Service.
Much of the land in the canyon is managed by the Bureau of Land Management as a wilderness area, which requires firefighting activities to minimize damage to natural resources.
The Oregon Department of Fish and Wildlife has some wildlife conservation land inside the burned area, and several tracts of private land are also affected.
No structures have been threatened by the fire, although there are scattered homes, cabins and other buildings near its perimeter. The community nearest the fire is Pine Grove, about 2½ miles to the south.
The Mt. Hood National Forest has asked kayakers to not use the Keeps Mill campground launch site and others on the White River until passage is safe.
Thunderstorms that rolled through the region July 13 started large and small fires in the drier areas of the state, reported Central Oregon Interagency Dispatch Center in Prineville.
"Few areas were left unaffected by the lightning," said the agency's Sunday night update.
The Jack Knife fire in the lower John Day recreation area, about eight miles southeast of Grass Valley, has burned 1,200 acres. Helicopter bucket drops have helped but strong winds in the area have caused a moderate spread of the blaze.
A home has been threatened in Wheeler County and two structures destroyed in a 375-acre blaze, mostly on Bureau of Land Management property about two miles north of the junction of highways 207 and 19.
Meanwhile, about 45 miles northeast of Klamath Falls, a home and other structures have been lost to wildfire in heavy timber and brush on private land. More than 100 people were evacuated from a subdivision during the evening of July 13.
There were reportedly hundreds of lightning strikes on the Warm Springs Reservation and nine small fires, some threatening structures.
ODF officials reported that residents of two homes were urged to leave Sunday evening due to the proximity of four fires that had burned 30-plus acres on Shaniko Butte. Also put on alert was a community of eight to 12 homes five miles south of those blazes.
While most of the lightning-sparked fires were small – a single tree west of Bend – a 40 to 60 acre fire was ignited about three miles north of the Klamath-Deschutes County border.
Fires were also reported in Cow Creek Canyon, about nine miles southwest of Antelope, near Sisters, in the Maury Mountains and on Mt. Bachelor. A 40-acre fire was also being fought in the Willamette National Forest.
In Wasco County, a vehicle striking a power pole on Highway 29 started a fire this weekend that burned about 60 acres east of Antelope.
A 100-acre fire east of Madras is believed by forestry officials to be human-caused and have started on a disc golf course.
Dallesport Volunteer Fire District contended with several fires over the weekend and one late last week.
July 10, a fire broke out July 10 at Milemarker 80, near Murdoch. Dallesport Chief Rhet Howard said he did not believe that fire was lightning-caused.
Firefighters battled that blaze from 9:30 in the evening until shortly before 5 the following morning. Acreage was not yet available, Howard said.
Sunday a lightning strike sparked a lightning fire of about one acre on Dallesport Road near Graves Vineyard.
"We were able to contain that one to less than an acre," Howard said. "At the same time, we had one on Dalles Mountain Road above Avery. Wishram and Centerville were able to take care of that one.
Dallesport was called out again Monday at around 6 p.m. in response to a fire just east of Doug's Beach.
Lyle volunteers were also called out to the blaze which was on the district border with Dallesport. Also responding were Mid-Columbia Fire and Rescue, Wishram, Bingen, Appleton, the Washington Department of Natural Resources and the Oregon Department of Forestry.
"It's contained," Howard said this morning. "They're still working hot spots in the middle. There are tree trucks in the middle that are going to be still smoldering until we can get crews in there to work them."
The fire ran east from Doug's Beach.
"It burned east until it ran into the burn from the 10th," Howard said. "It was the first fire that actually stopped it."
NEXT TOP STORY: Rural shooting injures one