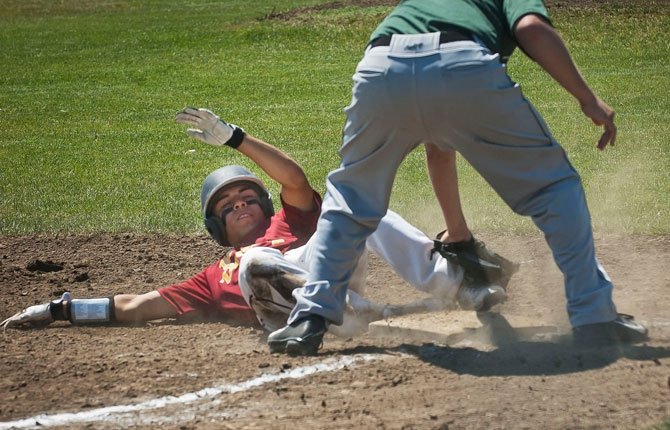 From the first pitch to the last, The Dalles' 15U Babe Ruth All Stars saw blood in the water and attacked the opposition like a pack of wild piranhas.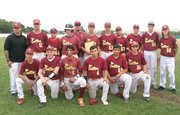 In a span of 16 innings, TD outscored its opponents by a 39-1 margin and slammed out 26 hits in securing the District 5 championship Sunday at Kramer Field in The Dalles.
Sunday, this group capped an impressive weekend with an 11-0 mercy-ruled win over Pendleton to take hold of the title.
"There's a different mentality now," said skipper Sean Herriges. "They have been chirping on the mantra of being a piranha, to attack and keep attacking until it's gone. Piranhas devour everything. That's the mentality that these guys got to take and they showed it all weekend."
Sunday against Pendleton, The Dalles got off to a fast start with two runs in the first inning and added a single run in the third to take a 3-0 lead.
With two outs in the fourth, TD scratched across four more runs on three hits, two walks, a hit batter and an error.
Denzel Arellano slugged an RBI single to right to plate Dawson Hoffman to make it 6-0, and up next, Boston Bate blasted a run-scoring single to left to plate Arellano to make it, 7-0.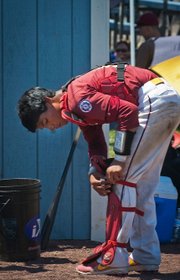 Tyler Westin capped the five-run outburst with an RBI double to right centerfield to score courtesy runner Dylon Jinkins to make it an 8-0 cushion.
The Dalles invoked the mercy rule in the top of the fifth on an RBI single by Max Martin to chase home Aaron Maney.
Martin would later score on a wild pitch, and Hoffman made it an 11-0 margin with an RBI single to left to score Johnny Miller.
TD reliever Cameron Wang then retired the side in the fifth to seal the win.
In all, The Dalles notched 11 hits, as Westin, Bate and Arellano went a combined 6 for 8 with four RBIs and four runs scored.
Bate got the win on the mound, throwing three innings of one-hit ball with four strikeouts and two walks.
This weekend proved to be a contrast to what transpired on the same Kramer Field for this squad.
Last season in state competition, they were outscored 71-29 in taking four consecutive losses.
Much of the group is still in place, but they have come in to the season with a chip on their shoulders.
"It feels great to come out and prove some of those doubters wrong," said Preston Klindt. "One of the main problems we had last year was just we didn't have the mentality for it. This year, we have. We started the season strong and it got our confidence back up to where we needed to be and where it should have been probably about four years ago, honestly. It has boosted us the entire way, all the way up to this point."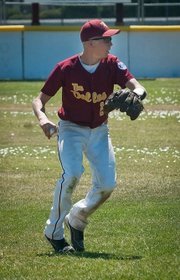 To pave the way to Sunday's festive events, The Dalles dropped Pendleton 11-1 and rolled through Clackamas by a 16-0 tally.
Versus Pendleton, Klindt went 3 for 4 and Tanner Herriges, Maney and Miller had a hit apiece to help the cause of Westin, the starting pitcher.
With the scoreboard reading 9-1 entering the bottom of the sixth, Tanner Herriges roped an RBI single to left to plate Wang, and Klindt scored the game-clincher on a fielder's choice and an error.
Westin allowed one hit in his four innings of work, with four strikeouts.
Off the heels of the win over Pendleton, Jinkins hit the bump with a chance to keep the momentum going against Clackamas.
The diminutive right-hander threw 52 pitches and struck out five, while allowing two hits in The Dalles' 17-0 mercy-ruled whitewash.
All told, The Dalles notched seven hits and used a six-run first frame and a 10-run second to do damage.
Bate went 2 for 2, and the quartet of Wetmore, Arellano, Klindt and Miller had a hit apiece.
Through 22 games this summer season, The Dalles has a 19-3 record.
With the stakes being raised next week for the state tournament in Ontario, Westin talked about coming out with the same mentality.
"We are going to have to keep it loose off the field and just keep a level of mental focus to be successful," Westin said. "Focus is the biggest thing with this team. Focus and chemistry. If we keep on the same level, we can go far. We won't lose many games."
The Dalles leaves for Ontario next Tuesday. They will play pool play contests on Wednesday, July 23, and Thursday, July 24, and Friday, July 25.
In order to qualify for the bracket rounds and championship Saturday, TD needs to finish in the top-4.
Since British Columbia dropped out of regionals, the top-2 teams advance to play in Baker City from Aug. 5-10.
NEXT TOP STORY: Photographs from Jammin July Street Festival