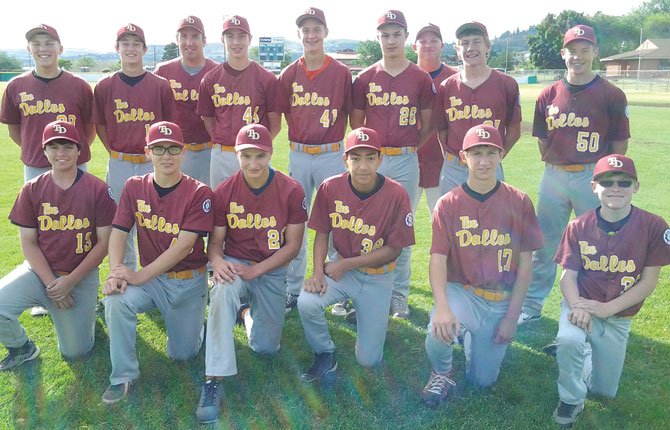 The Dalles 14U Babe Ruth All Star coach Jeff Justesen feels like he has all of the components in place to make some noise at this week's state tournament at David Douglas High School in Portland.
As fickle as the game of baseball is, The Dalles needs to execute, play seven innings of hard-nosed ball and get some bounces to go its way if it intends on finishing in the top-2 to advance into the regional rounds for an opportunity to stake claim into the World Series.
No need to put the cart before the horse, however, the first task at hand is starting strong in pool play.
"We want to go out there and play our best ball," said Justesen. "We thought that we would do a lot better at state last year, but part of baseball is running into some skill, but also running into some luck. We had a couple of things not bounce our way, but we are looking to make this chance count so we can keep our season going."
Justesen has the luxury of pretty much the same roster intact, with some power, speed and experience highlighting the group.
Returners Kolbe Bales, Bailey Keever, Connor Uhalde, all from Dufur, and The Dalles' William Justesen were able to earn some extended playing time on the high school varsity baseball circuit, so the level of competition should not be overwhelming.
Along with that quartet, there is a mixed bag of athletes from across the Columbia River Gorge looking to join forces for a memorable postseason.
Kristos Kiser, Jose Gonzalez, Jacob LaFrenz represent The Dalles, and Chad Hester is from Klickitat.
Brody Woods (Arlington), Bradley Moe (Rufus), Trey Homer (Fossil), Tylen Webster (White Salmon), Jacob Justesen (Wasco), and Chad Hester (Klickitat) make up the rest of the roster.
"I feel that we have a better chance this year since we drew some of the best players from around this region," LaFrenz said. "I think it will help us out a lot. I think we have the potential to do a lot better and go deeper this year. It is going to be fun."
Last year, The Dalles team finished two wins shy of advancing to the semifinal rounds, taking losses to Snake River Valley and state champion Moundtime to earn their exit.
One key to success lies in offensive execution, an area coach Justesen plans to exploit due to the overall team speed in the lineup.
He has several players who can get on base and wreak havoc on the opposing pitchers with stolen bases and put the defense on their heels with an ability to run from first base to third base on singles.
It will be up to the boppers in the middle of the order, Jacob Justesen, William Justesen, Bales, Keever, Woods and LaFrenz to knock in those runners on base to establish momentum.
"Batting is our strong point. We can all hit the ball hard to every place in the field," Bales said. "We hit it in the gaps and can do all the little things to score runs. We will need to do everything we can to win."
Bales brings a southpaw element to the pitching staff along with Jacob Justesen, but any number of the seven or eight players have the ability to pitch.
William Justesen will log some frames from the mound as will LaFrenz and a few others.
"I think our pitching is our strongest area," LaFrenz said. "We have guys who can throw hard and locate. If we can throw strikes and keep the other team from scoring runs, we will be in pretty good shape."
The team starts pool play in Portland at 1 p.m. against East Portland Metro, and then they hit the diamond opposite David Douglas.
On Friday, TD plays against a tough Pendleton group, before capping a two-day stretch versus West Linn at 4 p.m.
The top-4 teams move on to play Saturday.
Regionals are scheduled to run from July 29 to Aug. 2 in Whitefish, Montana.