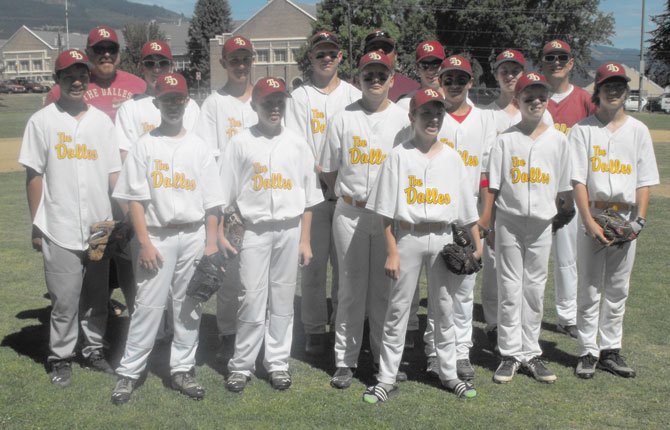 The time has come for The Dalles 13U Babe Ruth All Stars to put its best foot forward against some stiff competition at the state tournament from July 16-19 for the beginning of pool play this week at West Linn High School, just outside of Portland.
Led by the managing skills of manager David Hough and assistants Jimmy Baughn and Octavio Pinedo, the Stars have some talented pitchers, defenders and hitters ready to be put on full display.
Former The Dalles Little League Most Valuable Player Henry Lee headlines this squad with his blend of power, speed and home run hitting ability.
Lee is flanked by fellow all-around standouts Jordan Wetmore and Andrew Carlock, Bailey Hajicek and Hagen Pence.
Along with that well-skilled core group, David Wring, Colton Baughn, Emilio Pinedo, Harry Wilde, Trent Hough, Brandon Smiley, Connor Baughn and Jerejiah Brittle.
Lee, Wetmore, Carlock and Hajicek have the potential to be stoppers on the mound, with Lee hitting 80-miles-an-hour on the gun earlier this spring season.
State tournament action kicks off at 7 p.m. tonight, as The Dalles takes on East Portland Metro.
If The Dalles can win a few games and finish in the top-4 of the standings, they will advance to game action on Saturday afternoon for bracket play.