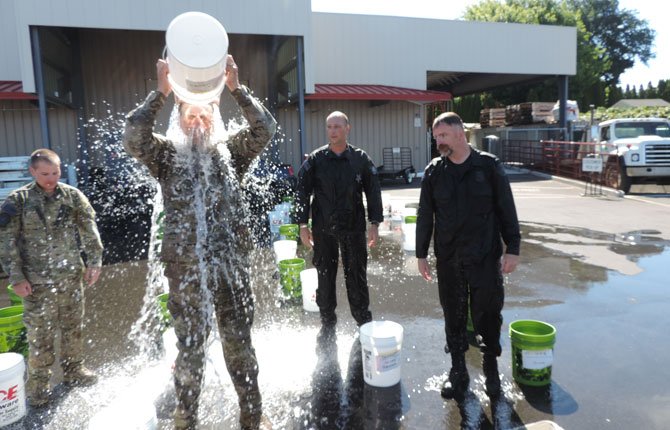 Challenge Honorees
Friday's honorees
This is the full list of fallen officers whose names were called out on Friday. The 41st bucket was for the families of the fallen.
Trooper Ralph Bates
Trooper Burrell Baucom
Sr. Trooper Harold Berg
Sgt. Earl Burtch
Trooper George Cameron
Sgt. Theodore Chambers
Trooper Bret Clodfelter
White House Police Leslie Coffelt
Trooper Dale Courtney
RCMP Fabrice Gavaudan
Senior Trooper William Hakim
Game trooper William Hall
Trooper Amos Helms
Superintendent Holly Holcomb
Game Officer Arthur Hubbard
Trooper Frederick Kielhorn
Trooper William Levinson
Trooper Scott Lyons
RCMP Constable Douglas LaRoche
Trooper Philip Lowd
Sr. Trooper Maria Magnana
Trooper Dan Nelson
Trooper Richard O'Connor
RCMP Constable Joseph Prevett
Trooper Elmer Pyle
Sgt. James Rector
Trooper Delmond Rondeau
RCMP Constable David Ross
Trooper Charles Sanders
Sgt. Richard Schuening
Sgt. William Sheppard
Trooper Donald Smith
Trooper Leroy Spickerman
Trooper Willard Tubbs
Sgt. Ira Warren
Trooper Donald Welp
Canine officer Mick, Portland
Canine officer Tanja, Georgia
Canine officer Tracker, Alabama
Canine officer Ike, Idaho
They were the coolest guys in town.
Literally and figuratively.
Four The Dalles-based law enforcement officers dumped water on their own heads Friday in the parking lot of Hood River Supply on 12th Street on the Heights — 41 buckets of ice water.
The event was the Cold Water Challenge, a nationwide benefit for the Officer Down Memorial in Washington, D.C., which honors men, women and canine officers who have died while serving their communities.
In Cold Water Challenge, officers douse themselves while calling out the name of a fallen officer. They pay $10 per bucket to do so.
"Option A is wimp out, and donate $100. Option B, dump a bucket over your head," said Oregon State Police Trooper Gavin McIlvenna, who organized Friday's event. With him were fellow troopers Zach Bohince and Andrew Vanderwerf, and Portland Police Bureau's Kris Barber, who with McIlvenna is part of the statewide Mobile Response Team.
"Quick and painless," one of the quartet quipped about the repeated icy self-dousing.
One at a time, the men picked up the buckets, labeled with the names of the fallen. After doing a row of four, they stepped forward and solemnly hoisted another four buckets in turn, loudly calling out the names.
"Freezing water? It's nothing. You think about the families and you think of the fallen who have passed and what they went through in their final moments," McIlvenna said. "It's just a challenge. Many people out there are afraid of it, but it's not that bad. If I can survive having a bucket of cold water dumped on my head I think I can survive having to stand next to a brother."
He said Sgt. Ken Terry of Roseburg, also on the MRT, challenged him and he issued the challenge to other SWAT team members from around the state. When the 41 buckets were emptied, the quartet issued their own challenges, videotaped by Trooper Jason Walters and Lt. Pat Shortt. New challenges went out to Hood River police and sheriff personnel, and Barber called out his brother, of the Bend Police Department.
"It was our intent to do the 31 state troopers who had fallen since our inception in 1931," said McIvenna. "I talked to SWAT Sgt. Seth Cooney (Hermiston Police) who had said he wanted other SWAT people to join us.
"I added four constables for Royal Canadian Mounted Police and four canines, and one extra for tomb guard friends who are also law enforcement, as a challenge to them to get that rolling across the country," he said. Mcllvenna said he added the Mounties to the group because Northwest agencies have a longstanding tradition with their Canadian counterparts and especially the RCMP.
McIlvenna served on the Tomb of the Unknown Soldier guard unit from 1997 to 2000, and on Friday he remembered Leslie Coffelt, who died in the line of duty in the White House. Coffelt protected President Harry Truman from an attempted assassination in 1950.
As to the canine units, Barber called out an extra greeting to the canine officer Canine Mick, who died in service this spring.
"People hear about the gunshots, they don't hear about the injuries, a lot of them (police dogs) retire because of injury," Barber said. "They are willing to sacrifice for us, and a lot of times they go in first, and they step up. Mick literally and figuratively took the bullet for his handler."
McIlvenna also called out a thank you upon saying the name of Sgt. James Rector, father of Scott Rector, a trooper assigned to The Dalles Patrol Office.
Vanderwerf and Bohince had different takes on a 10-bucket ice bath.
"It's a nice warm day, and all for a good cause," Vanderwerf said. "We're here to represent all the fallen officers," Bohince said. Hood River County Sheriff's Deputy Joel Carmody called him out Thursday.
"It's a little early, and I thought it would be warmer, but it's a good cause and we're happy to be here," Bohince said.
NEXT TOP STORY: TD Dance squad opens some eyes