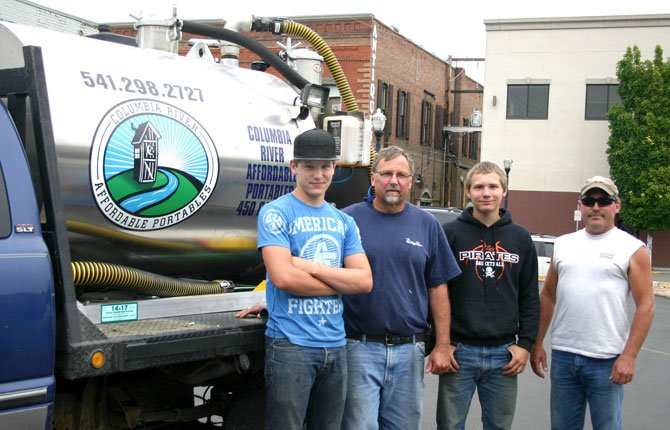 Folks who attend the Fort Dalles NPRA Pro Rodeo this week will want to have their minds focused on the action in Milt Tumilson Arena.
One thing they probably won't want to have to think too much about is toilets.
That's where Columbia River Affordable Portables comes in. The new family-owned business will be providing the facilities for the rodeo this year.
"We're a portable toilet and septic tank service," said Bob Walshaw, one of the owners.
While Columbia River Affordable Portables just opened for business this year, Walshaw has been in business in The Dalles since 1995.
"We specialize in thorough, timely service," Walshaw said. "We're there when we say we'll be there."
In addition to the rodeo, the company also provides portable toilet services for some of the orchards in Wasco County. Special events like weddings and parties are also no problem, Walshaw said.
"My son-in-law has been in the septic and excavating business for 30 years," Walshaw said.
Unlike the experienced ownership, the equipment is brand new.
"Our truck is equipped with a pressure washer on board and a disinfectant system," he said. "We do [maintenance and cleaning] right on site."
Walshaw said the units themselves are an upgrade from the standard units. They are double-walled and a bit better equipped.
Find out more about Columbia River Affordable Portables at 541-298-2727 or c.r.pottys@gmail.com.
NEXT TOP STORY: Librarian announces September retirement