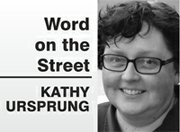 A prime example: When Oregon Department of Human Services wanted to recruit new adult foster home providers to meet the growing demand for these services, it's no surpise they turned to Mary Alva of The Dalles. Alva has been in the business since 2000 and owns two local adult foster homes, Mary Alva Senior Class I and Mary Alva Senior Class II.
Mary came from a medical background and worked in the medical field in Seattle since 1976. She says her favorite part about being an adult foster home provider is "the satisfaction of knowing we are creating a good home for our community's elders, and it is very satisfying. The residents and their families really appreciate the nice home we provide them. I also enjoy getting to know the residents and their families and learning about contributions they've made to the community."
Providing adult foster care is a good option for those who wish to work from home, own their own business and provide personal care and services outside of an institutional setting, according to Human Services. Ongoing training is available to help providers grow in their chosen field.
Anyone interested in becoming an adult foster home provider, or who would like more information may contact their local Aging and People with Disabilities office. In Wasco County, call 541-298-4114.
Baldwin benefit: The Baldwin Saloon is donating a dinner and dessert for four to be raffled off with funds to be donated to The Dalles High School Cross Country team for its out-of-state weekend trip this October. Raffle tickets are available from team members or at The Baldwin Saloon for $2 each or three for $5.
Ferreting out unlicensed contractors: The Oregon Construction Contractors Board recently swept through 40 communities, including The Dalles and Hood River, and reaching east and south to Pendleton, Bend and Ontario.
They were looking for unlicensed contractors and turned up 43 potential violations of construction contractor law.
Of that figure, 17 cases involved people working without a license. Another six cases involved contractors who hired an unlicensed subcontractor.
Other violations included contractors who lacked workers' compensation coverage, neglected to include their CCB number on advertising and lacked a licence to handle lead-based paint.
Anyone who repairs, remodels or builds homes or businesses must be licensed with the CCB.
Know your government: The Government Affairs Committee of The Dalles Area Chamber of Commerce has released its speaker's schedule through Aug. 7.
This week's speaker at the 7 a.m. meeting at the Barbecue Restaurant is Loren Schultz, regional coordinator of the Infrastructure Finance Authority of Oregon. Future speakers; July 24, Rep. Greg Smith (conference call), July 31, The Dalles Mayor Steve Lawrence; and Aug. 7, Duane Francis, Mid-Columbia Medical Center.