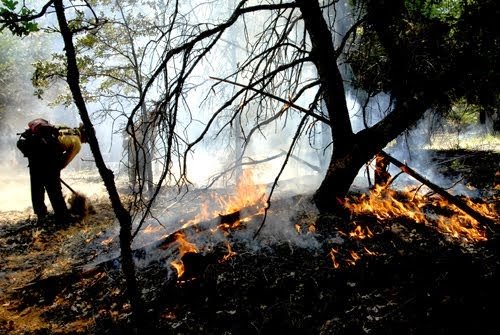 The White River Canyon Fire, which started Saturday afternoon, is expected to be 100 percent contained by Friday morning, according to Brian Ballou, information officer for the Oregon Department of Forestry.
He said 652 acres have burned, but 460 firefighters are hard at work to mop up hot spots.
About one-third of the personnel from varied agencies are expected to be relieved today so they can return to their home unit or join fire crews at other blazes in Central and Eastern Oregon.
"There's not a lot left to do here," said Ballou.
He said because some of the fire lies within a designated Wilderness on Bureau of Land Management property, smoking areas will have to be left alone.
Firefighting in that part of the canyon, about 12 miles west of Tygh Valley, has to be undertaken to minimize damage to natural resources as much as possible.
Oregon Gov. John Kitzhaber has issued an emergency declaration in response to wildfires.
Kitzhaber's verbal declaration Wednesday enables the Oregon National Guard to assist with firefighting as needed.
Kitzhaber says the declaration will help protect people, property and natural areas.
Hot and dry weather has fueled a number of wildfires across Oregon, forcing evacuations and closing roadways.
NEXT TOP STORY: Multiple fires burn in Oregon