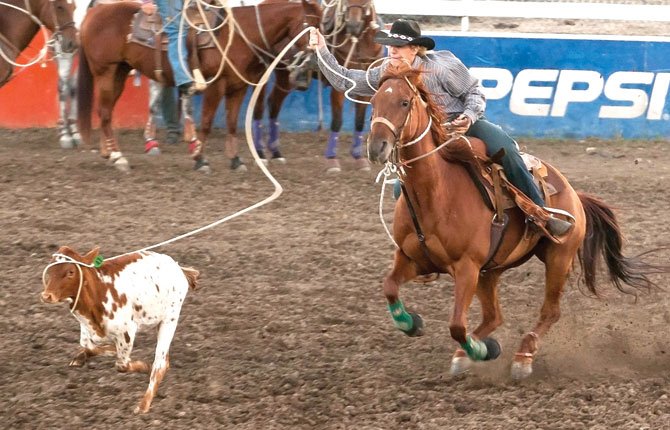 With nearly 400 participants on the docket for rodeo competition, more than 100 cowboys and cowgirls tried their hand in timed events Wednesday for the start of the 49th annual Fort Dalles NPRA Pro Rodeo slack event at Milt Tumilson Arena in The Dalles.
There were several top performances put forth by the participants, highlighted by the sparkling time of 2.1 seconds in the breakaway roping event by Burns' John Berryrose.
With three more days remaining, Berryrose is well-positioned to collect first-place money when it is all said and done.
"We saw some good rodeo competition," said Rodeo Director Jake Grossmiller. "In the breakaway event, we had a young man from Burns put up a pretty quick time that is going to be hard to beat. There were some other times that were close there too. We had a 2.5 and a 2.7, so it looks like we could be in for something good in these next few days of competition."
Kyle Sloan, of Ellensburg, Wash., is on top of the tie-down roping leaderboard after posting a time of 9.9 seconds, and Weiser, Idaho's Trevor Maddox, is ahead of the pack in steer wrestling with his marker of 5.8 seconds.
The duo of Travis and Tyler Whitlow, out of Queens Creek, Arizona, matched wits for a 5.4 in the team roping event, and Mabton, Wash. native Cheyenne Allan scorched the dirt for a solid 18.16 to jump to the top of the standings in the barrel racing event.
Over the next three days, the numbers will continue to rise in the other timed events, and fans will get to see a stout stock of bulls in the bull riding competition.
Working with Kelley Bowcutt, of the Gold Buckle Rodeo Company from Roosevelt, Wash., Grossmiller envisions a tough road for these cowboys.
"The rodeo stock looks good," Grossmiller said. "The competition for the rough riding, bull riding and bronc riding is going to be really tough. Bowcutt has some of the best rodeo stock in the Northwest. It is extremely exciting to have him on board. I think it is going to be a very good rodeo."
As an integral part of the rodeo landscape for all 49 years since 1965, Grossmiller always looks forward to this week.
It is through all the hard work, in-depth planning and execution from everyone involved across the board that makes the experience pleasurable.
"There is a lot of work put in by a great number of our Fort Dalles Rodeo members to make this possible," Grossmiller added. "It is exciting to see everything come together. We are just looking forward to having a good bunch of spectators to watch some good rodeo entertainment."
Tonight, Friday and Saturday, rodeo activities begin at 7:30 p.m. and fans can purchase tickets at the chamber of commerce offices or email info @thedalleschamber.com.
Also on Thursday at 7:30 a.m., the Fort Dalles Rodeo Golf Tournament takes place at The Dalles Country Club. Contact Kent Smith at 541-298-8172 for details.
At 7:30 a.m. Saturday, the Fort Dalles Days 3k, 5k and 10k run/walk kicks off for running enthusiasts at Pocket Park.
This event is sponsored by Wonderworks and costs $10 or $20 for a family.
Email erinaford @yahoo.com for signup information.
NEXT TOP STORY: Chronicle to stream governor debate