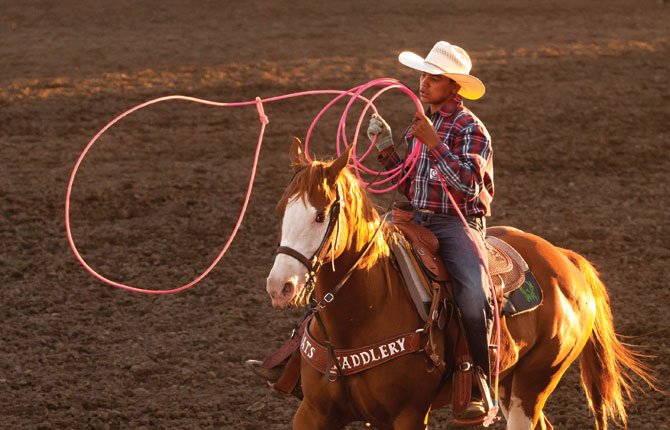 The final weekend of Fort Dalles Days brings plenty of activities to appeal to a wide range of interests.
July 17, 18 and 19, Fort Dalles "Rough & Wild" NPRA Pro Rodeo, Milt Tumilson Arena, River Rd. 7:30 p.m.

July 17, 18 and 19, Original 1859 Wasco County Courthouse, 410 W. Second Place (behind Chamber of Commerce), video showings "Early Wasco County," 11am.; "Raising Wheat by Horsepower," noon; "Farewell to Celilo," 1 p.m.; "The Craft of Wheelwrighting," 2 p.m.
July 18, Fort Dalles Rodeo Golf Tournament, 7:30 a.m., The Dalles Country Club, 4550 Hwy 30 W., The Dalles.

July 19, Fort Dalles Days 3K, 5K, 10K Run/Walk and a 1 mile Kids Fun Run, registration begins at 7:30 a.m., Klindt's Pocket Park, 3651 Klindt Drive.
July 19, Cowboy Breakfast, 7:30 to 9:30 a.m., Mid-Columbia Senior Center, 1112 W. 9th St.

July 19, Fire Department Museum Open House, 9 a.m. to 1 p.m., City Hall, 313 Court Street. View vintage 1859 and 1879 fire pumpers and fire-fighting memorabilia.
July 19, Fort Dalles Museum (1856) & Anderson Homestead Family Fun Day, 10 a.m. to 4 p.m., 500 W. 15th St. (on Garrison), free admission all day.

July 19, Pioneer Games, 10 a.m. to 4 p.m., The Dalles Wasco County Public Library, 722 Court St.


July 19: Plays in the Park, "King Midas," 11 a.m., The Dalles City Park Fifth and Union streets.
July 19, Rorick House open house, tour of buildings and grounds, 300 W. 13th St. 10 a.m. to 4 p.m. 541-296-1867.
July 19, School District Archive Museum, 3601 W. 10th St., Wahtonka Campus (entrance by athletic fields). 10 a.m. to 3 p.m., free admission.

July 20, Pulpit Rock Camp Revival, 12th and Court Streets, 8 a.m., Re-enactment of preaching from Pulpit Rock, Historical Story Telling and Indian Music. For information, call Mary Linebarger 541-298-2829.