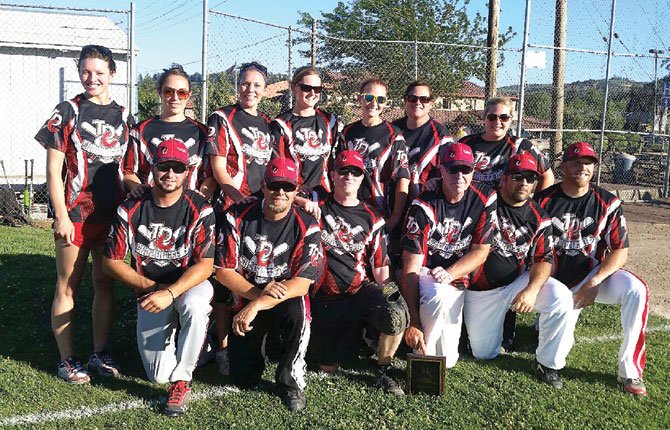 Jeff Miller, The Wizard of Webber Street, made his pitching swan song a sweet melody for The Dalles Concrete Sandbaggers.
Miller scattered seven hits from the circle, and teammate Devin Crye hit his league-leading 15th home run of the season to lead the Sandbaggers to their fourth consecutive North Wasco County Parks and Recreation co-ed softball crown in a 13-4 triumph over Zim's Brau Haus Wednesday at Kramer Field in The Dalles.
"I was able to keep the ball in the strike zone and make them swing the bat," said Miller, whose team amassed a 14-1 record during the regular season. "When they hit the ball, my defense made all of the plays, which made my job easy. This was a great team win. It feels great just to be a part of it."
Crye, a 2004 The Dalles High School graduate, got the party started right in the second inning with his three-run round tripper to fuel a four-run outburst.
The Sandbaggers would then tack on three more runs in the third frame, five in the fourth and one run in the fifth inning to cap the scoring.
"We were able to get some clutch hits all game," said Sandbagger skipper Chuck Ashley. "Everyone did a great job out here today. I am happy for each and every one of these players."
Earlier in the playoffs, the No. 1-seeded Sandbaggers notched a 17-0 win over Maryhill Winery to vault into the semifinals Tuesday.
Against team McGlovin, Miller continued his dominant ways from the slab and the offense kept clicking to the tune of a 14-2 win to advance to the title contest.
Even with the .944 winning percentage during the 2014 campaign, Miller said his squad has taken on all challenges put before them.
It hasn't exactly been a walk in the park.
"We have had a target on our backs for the past couple of seasons," Miller said. "So many teams are really starting to load up their rosters to try and beat us. It has made it fun. A challenge, but a fun challenge. This is a very competitive league and we had to be ready to play every day."
As with the past four years, the biggest question surrounding the Sandbaggers was whether or not Miller would make his return to the roster.
Citing a need to continue bowling and taking it easy, Miller decided to hang up his glove after leading this team to its fourth straight crown.
He has played for 15 years, including the last seven for Ashley.
"Jeff is definitely going to be missed," said the Sandbagger coach. "We will try to find someone to come in and replace him. It is going to be tough to fill his shoes though. He has had a great run with us. He has been very dependable. It is important to have someone strong at that position and Jeff gave us that for years."
This four-year title run started innocently enough and the team has steadily progressed, going from no wins in the first season to one win in the second year to placing second in the third year.
Having Crye, Jacob Stocks, Rick Cyphers and Shane Elliott has been a huge coup for Ashley, but the skipper was quick to point to his group of female standouts as being the straw that stirs the Sandbagger drink.
Andrea Bailey, Hailey Elliott, Jessica Struck, Kaeley Schultz, Lisa Miller, Samantha Tenneson, Sara Anthony and Katie Dick have provided dependable defense and clutch hitting when the games were on the line.
"This is a great group of competitors," Miller said. "The girls all play good defense, but the main thing is they can hit. That is huge to have on any co-ed team. There are no easy outs, except for maybe me. That's the key is the girls are really good players and solid contributors to this team."
Finding a replacement for Miller is a priority on Ashley's to-do list this offseason. In addition, the manager will have to mix and match his athletes in preparation for some departures.
Recruiting and signing players should not be a tough task, however, since there is a long list of players who want to join forces on a successful program.
"Winning four in a row is tough to do. There are still some good teams here and it is never easy," Ashley said. "We will have a couple of new faces, but we will get going again. We really want No. 5. When you have Devin (Crye) here, it is tough for our opponents to win. He is that good."