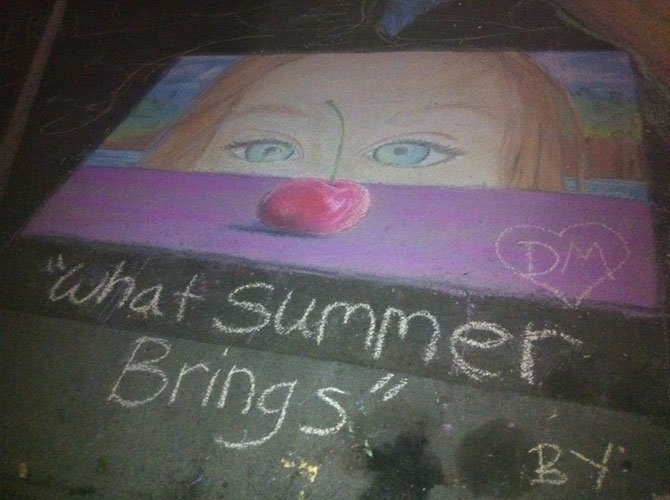 The Chalk the Block art contest handed out prizes in three age categories, plus a team category following the July 12 event, which was part of the Jammin' July Street Fest.
Karen Stewart of The Dalles conceived the event for last year's Jammin' July and reprised it this year, working with local businesses to get donations to make the event happen.
"It was amazing all the help I got," Stewart said. "The money to purchase the chalk, gift cards for prizes, carpet to sit on and water to drink. We had a great turnout with all sorts of age groups. This year was the same, despite the higher temperatures. Thanks to all who participated in creating another Chalk the Block event. I hope to see you again next year."
Lettie Young captured dual awards, people's choice and first place in the adult category, for her drawing of a woman's face.
Denae Manion took second place in the category for "What summer brings." Cooper Malin took third for "Let me at 'em, and Justin Schultz earned honorable mention for "Rainbow dancer."
In the teen category, Dorothy Young also won both people's choice and first-place awards for her dragon drawing. Ashley Clausen took second place for her lady with a blue hat silhouette.
In the children's category, Payton Zahn won people's choice award for his cat drawing. Flora Crouch won second for her girl with blonde hair and flowing dress.
The sole group entry had a Pacific Island theme and was created by Jermaine, Mercy, Malcom and Majestic Hisatake.
Art from the event is being left on Washington Street between First and Second so more people can enjoy the chalk masterpieces.