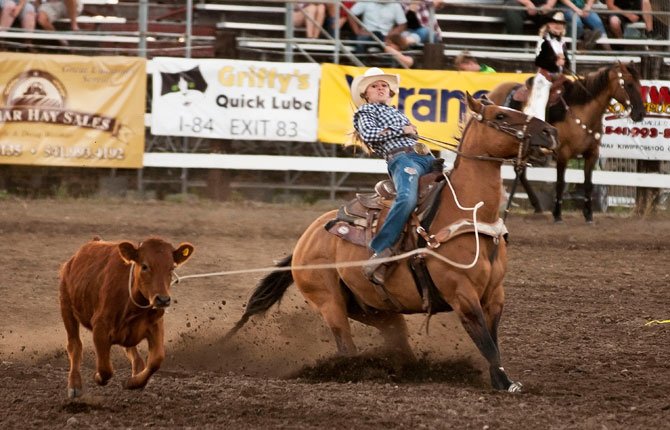 Now that the 49th annual Rough and Wild Fort Dalles Rodeo is hitting full throttle, the top cowboys and cowgirls from across the Northwest are fighting hard for a chance to get in the money.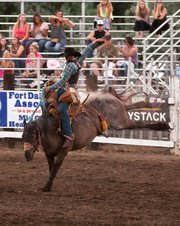 Thursday, a full slate featured bull riding, saddle bronc and bareback riding in addition to the usual timed events.
While aboard a bull named Yellow Wolf, Mike Sparlus had the lone eight-second-plus ride and notched a score of 76 to put himself atop the leaderboard with two nights remaining.
Tony Buckman and Wyatt Denny each dropped marks of 82 to share the lead in the bareback riding competition, a few notches ahead of Grant Denny and Lyle Bounds.
Denny aboard Spring Jubilee and Bounds on Blue Squirrel are tied for second place with 79s on their records.
Kade McLean is ahead of a contentious pack after his 79 aboard Keystone in the saddle bronc. The next three contestants had solid runs just shy of McLean's score.
Cooper Dewitt picked up a 74 for second place, Luode Kane, of Ellensburg, Wash. had a 73, and Christian Stromler, who rode atop Spiderman, scored a 70 to grab fourth place.
Homedale, Idaho's Arron Marts leads the way in tie-down roping with a 13.2 for the top time Thursday, but he is still well behind overall leader, Kyle Sloan (9.9).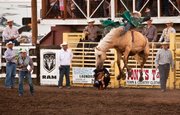 John Berry Rose, of Burns, looks to be in place to cashing a first-place check with his marker of 2.1 seconds still leading the breakaway roping class.
On Thursday, Centerville's Shelby Keyser stopped the watch in 4.5 for top-3 in the standings.
Touchet, Wash. native Taylor Gregg made his way to the top rung on the ladder with a 4.2 in steer wrestling for first place overall.
Trevor Maddox, of Weiser, Idaho is entrenched in second place with a 5.8, a time he put up on slack night Wednesday.
Walla Walla, Wash.'s B.J. Taruscio is third after a 7.5 to end up tied with Dufur High School graduate Beau Lewis, who chalked up a 7.5 also during the slack event Wednesday night.
Burns' Ryan Opie and teammate Chase Hansen timed out in 6.3 in team roping, but that dup was still behind Travis and Tyler Whitlow, who matched forces for a 5.4 on the record.
Terrebonne, Wash. representative Stevie Ray Willis put a stamp on festivities Thursday by clocking in at 17.37 to take an early lead in barrel racing.
Leon Crockett (17.73), Wilder, Idaho's Dana Storner (17.52) and Powell Butte's Harley Byram (17.52) capped the top-4.
Action concludes tonight and Saturday at 7:30 p.m.
NEXT TO PHOTO: Who is to blame? Crash investigators face struggle