While many firefighting resources are being reallocated from the White River Fire, which is predicted for containment today, other fires continue to burn in the local area.
The Jackknife Fire, burning east of Grass Valley near Kent, is now at 12,850 acres and 30 percent contained said Lisa Clark, information officer with Central Oregon Interagency Dispatch.
"It's running on both sides of the John Day River," Clark said. "We do not have an estimated containment date."
An incident team took over fire management this morning as part of the Pine Creek Complex, which also includes the Pine Creek Fire, burning on 15,0800 acres near Fossil.
Incident 347, about eight miles west of Antelope, is being managed by South Sherman County Volunteer Fire District.
"They're trying to hold that at Highway 293," said Shawn Payne of Sherman County Emerency Management. "It's about 50 percent contained and approximately 20,000 acres. "The other fire departments involved include Maupin, the R2 Ranch and Shaniko Volunteer Fire."
According to Clark, said South Sherman called for assistance on that fire, which has now jumped Highway 97. Smoke from that fire has caused closure of the fire, which is backing toward the Deschutes River.
"We're getting aircraft up this morning to see the status of some of these fires," Clark said.
Burning five miles northeast of Antelope is the 14,000-acre Black Rock Fire.
"It's actively burning south toward Highway 218," Clark said.
"The Donneybrook Fire is burning on 3,000 acres 11,000 miles south of Antelope. The fire is being managed by the Ash Butte Rural Fire Protection Association. The Oregon Department of Forestry is assisting on that blaze.
The Shaniko Butte fire continues to burn on the Warm Springs reservation, Clark said. Estimated size last night, according to Inciweb, is 25,000 acres.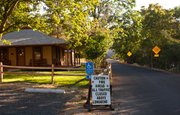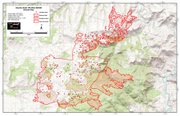 "It has burned down to the lower Deschutes in the area of Dant," Clark said. The river is closed from Trout Creek to Long Bend to all day and night use. "It's closed because the fire is burning along the river. We also have large helicopters dipping water. Anytime you're working underneath a helicopter there's extraordinary danger. They can carry tens of thousands of pounds of water when they're dipping buckets."
Hotshot crews worked all night to secure the north side of the Shaniko Butte Fire and will continue to work through the day, Clark said. Right now, fire conditions are looking good, but light fuels can respond rapidly to changes in conditions.
"There is a red flag warning today for wind and low relative humidity," Clark said. "We're hoping to start getting a weather change tomorrow with lower temperatures. That could make a huge difference."
NEXT TOP STORY: Study shows The Dalles has highest water and sewer rates in Eastern Oregon