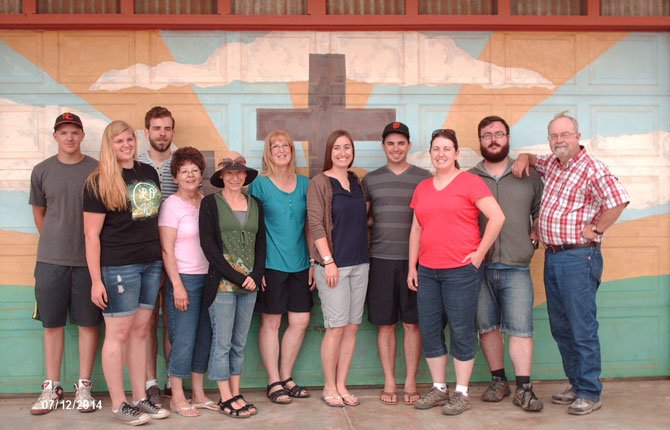 A group from Moro Presbyterian Church went on a mission to a poor migrant town in northern Mexico, where they helped in a variety of ways, from plumbing to painting to providing hygiene instruction.
"Everything was covered in dust and dirt, but you know, we looked past that. We were there to help God with these people, you hoped you did a little good," said Carol MacKenzie, one of 10 Sherman County residents on the June 5-14 trip.
Working through the long-established mission, Mexican Medical Ministries, they worked at a migrant camp, a nearby town with farm workers and at a nursing home.
They did a Vacation Bible School at the migrant camp, seeing 40 kids the first day, 60 the second and 100 the third. They handed out toothbrushes and showed kids how to brush their teeth, taught hand-washing and also just had some fun playing games and singing.
In the nearby town, they joined in with local staff from Mexican Medical Ministries and interviewed some 70 migrants to determine their local dialect, and then they provided them audio versions of the Scriptures.
Determining dialects required several tools, including a map for the worker to point to, showing where they came from, and something even more helpful: "[the missionary] had a recorder with different dialects and she would play that until they found the one that they recognized," MacKenzie said.
"They smiled real big when you figured out what dialect they have," she said. The 70 people they interviewed had 22 different dialects.
While the Mexican Medical Mission has a clinic with equipment to examine eyes, and a room full of donated prescription eyeglasses, they haven't had an eye doctor or a dentist visit the clinic in six years, MacKenzie said.
MacKenzie, a retired nurse who worked at Mid-Columbia Medical Center for 10 years, is hoping to use her contacts to rectify that.
"They really are hoping that some eye doctors and dentists will come down because the clinic is pretty well set up for eye doctors. It's a nice little clinic and there's places for them to stay."
They can even do eye surgery at a nearby town, she said.
The group was led by Moro Community Presbyterian Church Pastor Bob Stone and his wife Joyce, who is also an RN. The Stones have gone to Mexico 25 times on missions, MacKenzie said.
"God and family is what their lives revolve around and if they're lucky enough and young enough to work, they do that. But it was a very worthwhile, fulfilling experience," MacKenzie said.
Most elderly people live with family, but those with no family are in nursing homes, she said. They visited one nursing home and found it well-maintained, clean, with simple, healthy meals.
The town they visited was on the Baja peninsula, some 200 miles south of Tijuana.
It was just a mile from the beach, but the fine sand got everywhere and it was impossible to keep things clean, MacKenzie said.
In keeping with local custom, the women dressed modestly and did not wear shorts or tank tops.
Dresses or skirts were worn in church. The church service featured "lots of rousing music," MacKenzie said.
Between helping out a widow with some plumbing and painting of her home, the group was able to visit tide pools at the beach and stop for ice cream. But they were cautioned to only buy packaged ice cream, and not scoop ice cream.
They used lots of hand sanitizer and even used bleach in the water that they washed and rinsed dishes in. They treated the fruit and vegetables they bought, and nobody got sick on the trip.
"It was a good experience but it made you appreciate being born in America," she said.
NEXT TOP STORY: Editorial cartoons from July 17