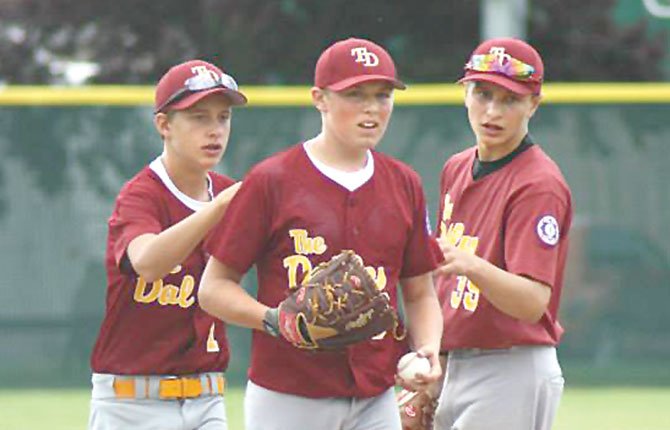 In two games, The Dalles Babe Ruth All Stars have been making it rain, cashing in on 54 hits and 50 runs.
The team registered a pair of blowout wins to start the 14U state tournament Thursday at David Douglas High School in Portland.
Even with wins of 26-2 over East Portland Metro and another 24-2 thrashing of David Douglas, All Star skipper Jeff Justesen is preliminarily happy, but far from satisfied.
There are two critical games on the docket today that could pave the way toward a run at bracket play Saturday.
"I told the kids that two blowouts don't mean anything if we don't take care of business on Friday," the All Star coach said of how things transpired. "West Linn has lost a couple, but are sound in the field. We know Pendleton is tough. A win (today) should get us to Saturday, but two wins give us a shot at the first seed."
In the opening tilt, The Dalles scored two runs in the first inning, as Tylan Webster crossed the plate on a single by Brody Woods, and Bradley Moe rifled a run-scoring single to bring in Woods to make it 2-0.
Staked to the slim, two-run cushion, The Dalles busted loose in the third frame for nine runs, spearheaded by a two-run double by William Justesen.
TD put the finishing touches on matters with 10 runs in the fourth inning, capped by a triple by Bailey Keever.
All of the offensive support was plenty for the pitching trio of Bales, Trey Homer and Kristos Kiser.
The southpaw Bales scattered a handful of hits and two runs, while both Homer and Kiser each tossed a scoreless frame apiece in the five-inning affair.
Overall, The Dalles notched a season-high 29 hits with Homer rattling off a perfect 4 for 4 effort from the plate.
Webster, Moe, Woods and Keever tallied three hits each, and William Justesen was good for two doubles.
"This team really wasn't too bad," coach Justesen said of East Portland Metro. "They lost their second game 8-7 against a good team. We just hit the ball hard all day long."
With the adrenaline still coursing through their veins, the Stars used four-hit efforts off the bats of lefty slugger Jacob Justesen and Homer in dropping David Douglas by a 24-2 margin in five innings of baseball.
The Dalles reeled off a five-run splurge in the second inning, and landed the knock-out blow with 11 runs in the third to do their damage.
All told, TD smacked around 25 hits.
Keever got the starting nod and allowed one run in his two innings pitched to earn the win.
Woods gave up one run in two relief frames and William Justesen tossed a scoreless fifth to keep David Douglas at bay.
"This team struggled in the field a bit," coach Justesen said of the David Douglas Stars. "Their pitcher got some ground balls out of us, but we capitalized on several errors."
The Dalles hit the diamond earlier today against West Linn and Pendleton.