The high cost of utility rates in The Dalles compared to five cities of similar size in Eastern Oregon was discussed at Monday's council meeting.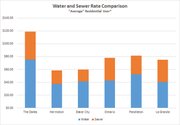 Nolan Young, city manager, said past councils had put off infrastructure improvements for more than a decade. He said the time had finally come when street work and sewer plant upgrades could not be put off any longer, which necessitated a series of rate increases to cover the costs.
"As a result of that, our rates are some of the highest in Oregon," he said.
The topic was raised following wide citizen distribution of a January report by the City of Hermiston prepared to discuss that city's utility rates.
To create an apples-to-apples comparison, Hermiston created an "average" utility user who consumed 1,000 kilowatt hours per month of electricity, used the most popular solid waste service, 24,400 gallons of water and basic sewer rates.
The rates were current for Jan. 15, 2014. The comparison doesn't consider proposed water and sewer rate increases for The Dalles through 2022, only current rates.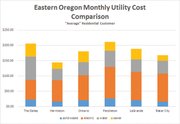 The monthly differential for water usage of 24,400 gallons averaged across 12 months is: The Dalles, $75.71; Hermiston,
$37.68; La Grande, $40.51; Baker City, $41.43; Ontario, $42.94; and, Pendleton, $52.41.
The basic charge of a residential sewer bill in The Dalles was listed as $43.29 per month, compared to Baker at $18.35, Hermiston at $20.95, Pendleton at $29.70, La Grande at $34.52 and Ontario at $35.30.
Consumption of 1,000 kilowatt hours of electricity cost $64.25 in The Dalles, $69.80 in Hermiston, $92.08 in Baker City, $81.30 in Ontario, $103.42 in Pendleton and $92.08 in La Grande.
In solid waste ranking, The Dalles came in third for 90-gallon cart service, calculated on a per-unit basis, at $22.80 per month, lower than Pendleton with a $24.38 charge and La Grande at $31.88. Hermiston's rate was figured at $16, Baker at $21.18 and Ontario at $21.15.
Combined commercial water and sewer rates in The Dalles are also higher, with a full-service restaurant at $948.37 per month compared to La Grande and Ontario at $824, Pendleton at $564.89, Baker at $490.90 and Hermiston at $323.92.
In rates for "big box" retailers, The Dalles also came in highest with a combined monthly water and sewer bill of $1,398.99, compared to La Grande at $963.30, Ontario at $898.30, Pendleton at $627.76, Baker at $494.77 and Hermiston at $312.64.
Similar rate disparities are reflected with quick service restaurants, small retail shops and general offices.
A letter written by John Hutchison of The Dalles and published in July 11 edition of The Chronicle, has generated discussion among area agencies about the city's utility bills being an impediment to economic development.
"I'm convinced that the current city council, with the possible exception of one or maybe two members, is either unwilling or incapable of asking tough questions of the administration," wrote Hutchison. "As a group, they appear to take the path of least resistance and round up the usual 'solutions': raise taxes, increase rates or kick the issue to the voters."
In a follow-up interview, Mayor Steve Lawrence said the rate differential between The Dalles and other cities was of concern from an economic development perspective, as well as quality of life for residents.
He said further investigation is needed to gain information not provided in the report, such as where the funding in other cities for capital improvements comes from and the age of their infrastructure.
"I'm taking this seriously and I think we're going to have to take a look at it – but I need a lot more information," he said.
In January 2013 the council approved a series of 3.44 percent rate increases for sewer services.
Councilors Linda Miller and Tim McGlothlin voted against the annual increases that will continue through May 2022. Lawrence can only vote to break a tie. Miller said the rates, added to a series of water rate increases, would put too much of a burden on area families during tough economic times. McGlothlin objected to using $1.2 million of capital raised by the rate increases on a new building at the wastewater treatment plant that might not be needed.
Councilors Dan Spatz, Carolyn Wood and Bill Dick supported the increases to cover most of the cost for a $17 million renovation at the plant. The city banked $3.2 million for the work that is being done in three phases, the first two to address deficiencies and replace aging or outdated equipment.
The third phase sets the stage to expand operations to meet growth needs and both McGlothlin and Lawrence questioned the population numbers provided by a consultant.
The statistics compiled by Carollo Engineers, a firm in Portland, were based on a 2006 ECONorthwest study. That firm had estimated growth at 1.6 to 1.9 percent — substantially higher than the historical 1 percent average — leading to a total of 20,479 people that would be served by the East First Street plant in 2022 and 23,203 by 2030.
Lawrence said Portland State University, designated by the Oregon Legislature as the official population predictor, showed the population for the entire county would only rise from the current 25,000 to 26,000 within the next 10-15 years.
"The ECONorthwest study took place before the downturn in the economy and yet we keep basing everything on that," he said in a follow-up statement.
In 2011, before Lawrence and Miller were onboard, the city enacted a series of water rate increases to raise $22 million for capital improvement projects.
An 8 percent hike was enacted that year, followed by 10 percent increases in 2013 and 2014. The increase then drops to 8 percent from 2015 to 2017 and goes back up to 10 percent from 2018 through 2020.
Lawrence has begun pushing for the budget committee to reconvene and take a look at where cuts can be made to pare down the city's expenses.
NEXT TOP STORY: Smoke presents health dangers