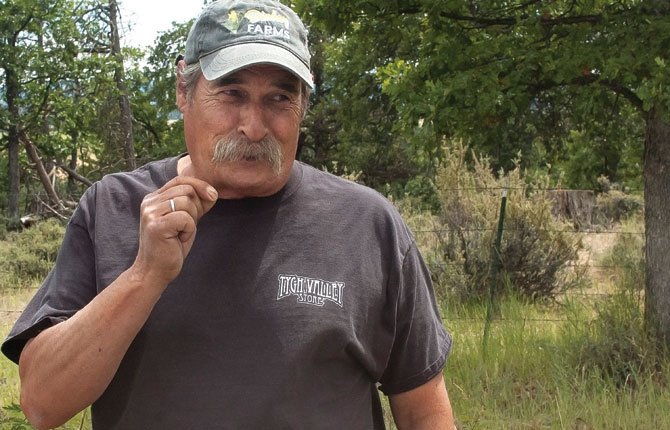 Water in drier parts of Oregon is precious and its distribution can sometimes cause feuds between neighbors.
"Water's gold here and we keep getting more and more efficient about how we use it," said Sam Cobb, a ditch walker for the Rock Creek Water Improvement Company serving the Wamic community.
It has been Cobb's job for seven years to keep the peace by equitably dispersing 610 cubic feet per second, or 4,563 gallons, of water from Rock Creek Reservoir among nine shareholders.
Cobb does exactly as his title suggests. Each morning he walks portions of the 14-mile ditch to adjust a series of 10 to 15 out of 30 measuring devices. The weirs he changes are dependent upon how much water a rancher or farmer has ordered for the day.
The water will be carried by a ditch to the storage pond on the individual's property, where it will be drawn upon to irrigate crops and quench the thirst of cattle.

"Our shareholders are all entitled to a certain amount and I keep track of what they are using," said Cobb. "I play by the numbers because everything I do in this system is measured."
It is essential that he keep track of the water supply because, as summer heats up, some farmers and ranchers get more than others.
The way it works is simple and yet extremely complex: Water rights are assigned to a specific piece of property and pass from owner to owner, with the oldest rights getting first dibs on the available supply.
When the level in the 88-acre reservoir begins to go down, a farmer with newer rights will be the first to lose access to water. As the supply is reduced, newer rights are suspended so people with older rights are the only ones still receiving water delivery.
To balance the system out, landowners with the most rights also pay a higher annual fee for irrigation service.
Each of the shareholders has a stake in the company that is proportional to how many water rights they hold.
Cobb hand-delivers a weekly report to each ranch or farm that outlines the present and past week's usage, as well as where their balance stands. His report factors the rate of evaporation and possible seepage into the calculation of the available supply.
The rancher or farmer is then responsible to make decisions about how much water to apply in order to grow a crop or, in Brendon Johnson's case, fresh grass for several hundred steers.
"It's all a juggling act," he said of the fact that most properties have a combination of older (from 1800s) and newer (early 1900s) rights.
Johnson, 23, recently completed the Texas Christian University Ranch Management Program in Fort Worth, and went into business with his father, Jim Johnson, who works in the high-tech world.
Johnson's grandfather, Jack Stevens, has been a rancher in Wamic for 25 years.
Because the Johnsons plan to double their stock within the next couple of years, they have to figure out how to make their allotted share of water spread as far as possible.
Johnson, who runs the operation, relies on having fresh green grass to feed newly-weaned steers that he buys at a weight of about 500 pounds and builds a frame to accommodate 900 pounds. From his ranch, the steers will be shipped to a feed lot, where they are fattened up before being harvested and their meat processed for the marketplace.

Johnson and other ranchers and farmers in the area can receive help from The Dalles office of the National Resource Conservation Service, a federal agency, to find ways of managing water more efficiently.
The ditch from the reservoir operates by an honor system and most people are respectful of the water rights hierarchy. However, Cobb has been forced a time or two to put locks on the valves to prevent someone from taking water that belonged to a neighbor. He also keeps valves locked up on a ditch that feeds public land along the route to prevent vandalism.
"The water has to be distributed by one hand, which is mine," he said. "Water is very important to these guys and, if they are entitled to it, it's important they get it."
Although the reservoir is manmade for irrigation purposes between April and October, Cobb said people recreate on the water and it is home to a variety of fish, including rainbow trout and big mouth bass.
"At the very end of the season, we have to be sure that water is left for the fish," he said.
Rains are rare during the late spring and summer months and Cobb said any type of shower has him shutting off values to conserve water being fed into the reservoir by Rock, Threemile and Gate creeks.
"When it rains in the hills, it brings up my levels and that is a good thing," he said.
Although he works alone, Cobb is happy to be the only ditch walker for the company and get paid to spend time in the great outdoors. There are two more reservoirs in the county with their own personnel.
"It's one of the most interesting jobs I've had in my life. The independence is phenomenal," he said. "I retired from a corporate background (manufacturing jet engine parts in Texas) and really enjoy the solitude."
He gets plenty of social time by serving customers at Molly B's Diner on Main Street in Tygh Valley that he and his wife own and operate. The restaurant's claim to fame is that it serves "the best breakfast in Oregon."