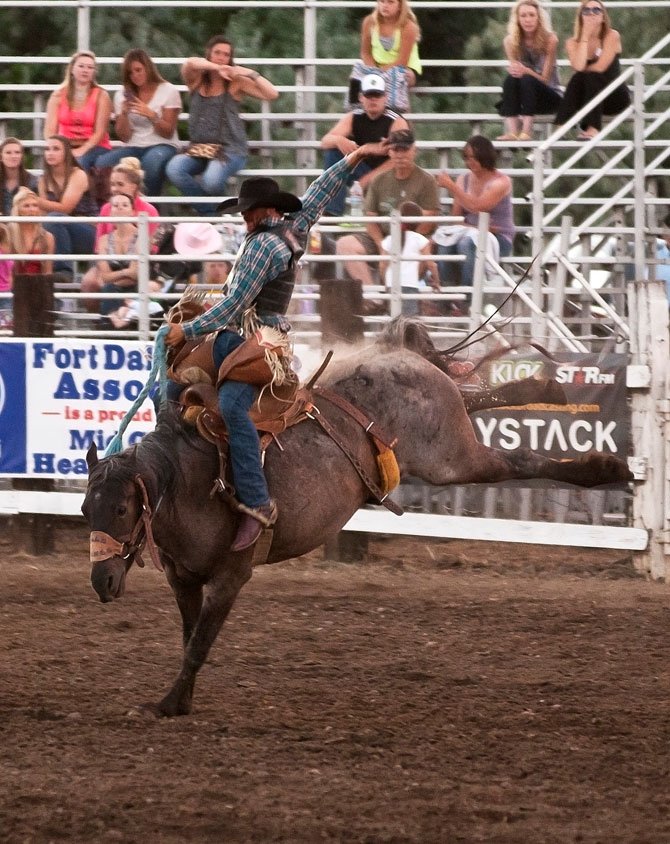 Friday night marked a shuffle fest in the standings, as two new leaders took the mantle in the steer wrestling and team roping events and Mike Sparks still has a lead in the bull riding division on the second-to-last evening of action at the 49th Rough and Wild Fort Dalles Rodeo at Milt Tumilson Arena.
With one three-hour session still remaining Saturday, there could be more places flip-flopped as the action hits its fever pitch.
"This is what makes rodeo so much fun. It is the unknown," said Rodeo Director Jake Grossmiller. "You never know what to expect on any given night. Anything is possible here, all you need is a good run and a little luck and you could be in the running."
Up until Friday, Taylor Gregg was entrenched in the top spot in the steer wrestling standings with his 4.2 seconds.
La Grande's John Green inched close at 4.9, but with three participants still left on the Friday card, Hermiston's Dalton Massey pulled out all of the stops to garner a marker of 4.0 to jump into first place.
In team roping, the tandem of Travis and Tyler Whitlow were leading the field with a 5.4 on the watch, but Hermiston's Jake Stanley and his mate, Renton City, Wash.'s Bucky Campbell, dusted off a 4.6 to take over the leaderboard.
On Thursday, Mike Sparks was the lone wolf on the bull riding trail, taking a 76 to the bank and there were nine other competitors ready to take over the reins Friday to no avail.
All nine could not surpass the vaunted eight-second mark, and one cowboy nearly had a shot, but wound being bucked off in 7.1 seconds.
"These bull riders are tough as nails, but this stock has the bloodlines in place where they are surpassing the talent," said rodeo announcer Chad Nicholson. "You feel for the riders because it is so tough, but that's what makes this event so much fun. We will see if these guys have it in them to get a time, but right now, I am not sure."
In this $2,000 added event, Sparks is in the driver's seat with eight riders scheduled to run Saturday.
On the barrel racing circuit, Stevie Ray Willis remained at the top of the heap with a stout 17.37 and she was tested Friday, as Yakima, Wash. native Shane Falon blistered the pace with a 17.71 to move into second place.
Kade McLean maintained his edge in the saddle bronc, as a 79 appeared to be the magic number.
Pendleton's Jerry Algers, aboard Big Casino, vaulted into second place overall by racking up a 77.
West Richland, Wash.'s Cole Apgar picked up a 67 in his only bareback riding whirl, but those numbers were still far out from Wyatt Denny, whose 83 on the scoreboard held a sizeable lead.
Kyle Sloan is riding high off his 9.9 in the tie down roping event, and Terrebonne, Wash.'s Shane Erickson faced that challenge head-on Friday by kicking in a 10.9 for second place.
John Berry Rose, of Burns, looks to be in place to cash a first-place check with a tally of 2.1 still leading the breakaway roping class, but Roseburg's Alysha Moore put a little heat on the leader with a final time of 2.2 to secure second place.
Now that the stage has been set from the previous three days, all of the signees have something to shoot for when it comes down to the wire.
Grossmiller and Nicholson will have a front row seat to see what transpires.
"Once again, we have had some great times in so many of the events. It's been impressive," Grossmiller said. "I just know whoever is left to run has just as good of a chance to get first or second place. We will just have to wait and see if it happens."