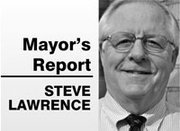 Congratulations to Doug Kirchhofer and Nolan Hare and all those citizens and volunteers who joined them in making this a fantastic Fourth of July celebration.
Taking this idea of organizing a fireworks display, parade and celebration at the Lewis and Clark Festival Park a year ago was bold and audacious. There activism was a leap of faith, working toward improvement. Their was no certainty they could pull it off but that is what makes it all the more meaningful. Their pride is in their efforts and the seriousness and intelligence with which they pulled this off. They enlisted the help of others. They said, "We can do this."
Since then, we've been in the thick of the rest of July, Jammin' July, the Ft. Dalles Rodeo and other events run and promoted by citizens who want to make things happen in The Dalles. The Main Street program just confirmed that Matthew Klebes will stay on as its coordinator. That is excellent news since Matthew has demonstrated an enthusiasm that is infectious. He is exploring other locations for parklets and new buildings to upgrade. He is working with the Chamber and the city to locate new businesses to fill empty spaces downtown.
Although July is always very busy, August is a time when the City Council takes the month off unless there are issues that require a special meeting. The budget for 2014-15 has been completed and can be viewed at city hall or on the internet. The Planning Commission and citizen subcommittees are continuing to work on issues of road financing and infill and the Bicycle Master Plan Committee needs people to volunteer as it revises the old 1993 plan. Please contact Julie Krueger if you are interested. The Transportation Master Plan will also be updated over the next year or so and bicycles will be an integral part of the planning. We need to be very vigilant and not let this opportunity pass us by.

Cycle Oregon is coming sooner than you may think. There are many committees which will handle everything from supplies, water and entertainment to transportation and clean up. If you would like to be a part of our community's effort to support this important state wide event, please contact the Chamber of Commerce.

The city will be working with the Port of The Dalles over the next six months to identify and recruit businesses to both the Port and downtown. We have hired a corporate recruiter who will visit corporations looking for new sights or to relocate. He will attend trade shows to show-case The Dalles and our assets. We have specifically asked him to look for opportunities in e-commerce, light manufacturing and beer and wine. The city and port will also work with building owners downtown to try and resolve any issues preventing the rental of available space. We don't yet know just what that means but discussing the issues individually with each property owner is intended to find solutions. If you are a building owner and would like to meet, please contact myself or Nolan Young. Otherwise, we will be contacting you. If you are a business looking for space and would like to discuss your needs, also feel free to contact myself or Nolan. My telephone is 503-807-0724 and my email is eLawrence1963@yahoo.com.
Steve Lawrence is Mayor of The Dalles.