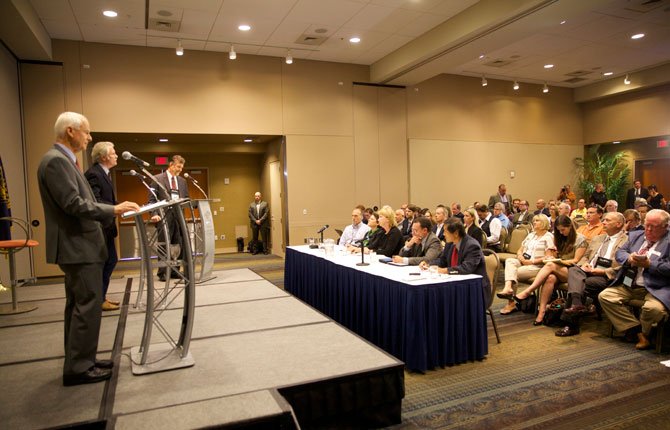 SALEM — Republican state Rep. Dennis Richardson presented himself as the future and Gov. John Kitzhaber as the past as the two gubernatorial candidates met in their first debate Friday.
Kitzhaber passionately defended his record but said he needed a fourth and final term to continue making progress.
Seizing his first opportunity to stand on the same stage with the Democratic incumbent, Richardson argued that Kitzhaber has checked out. He pointed to low high school graduation rates, a loss of jobs last month and problems with Cover Oregon — the state's troubled health insurance exchange.
"The governor is not tuned into governing," Richardson said. "He's not paying attention. And his list of failures proves it."
Kitzhaber touted a bipartisan spirit in Salem that has led to reduced costs for public-employee pensions and prisons, along with a balanced budget despite a massive deficit following the Great Recession. He pointed to a timber mills in John Day that escaped closure and another in Cave Junction was re-opened. And he said his changes to the state Medicaid system will save millions of dollars.
"Over the next four years, we have an extraordinary opportunity to build on these achievements and make a profound difference for our future," Kitzhaber said.
The Salem debate was sponsored by the Oregon Newspaper Publishers Association.
Oregon politicians typically celebrate the state's pioneering spirit, demanding a unique way to solve problems. But Richardson took a different route.
"I firmly believe that every problem Oregon faces is being successfully solved somewhere," he said. "We do not need to start with a blank sheet of paper."
He faulted Kitzhaber for seeking a best-in-the-nation health insurance exchange — an ambition the Republican blamed, in part, for Cover Oregon's ultimate failure to launch a working enrollment website.
Kitzhaber's retort: "Leadership isn't just about looking somewhere else for answers."
On education, the governor noted his effort to the align education policy from preschool through college under the new Oregon Education Investment Board and to realign funding for early-childhood education to reward the most effective programs.
Richardson said he'd oppose the education standards known as the Common Core.
"All we're doing is turning our teachers into class monitors," he said.
Richardson said that as governor, he'd try to work with other states' leaders to go to Washington and demand more control of Oregon's federal land.
Kitzhaber said he plans to use his perch as the incoming head of the Western Governors Association to seek "significant reform" of the U.S. Forest Service, but he didn't elaborate.
There were a few areas of agreement.
Kitzhaber and Richardson both bucked their parties in backing a top-two primary initiative on the November ballot. It would eliminate Oregon's partisan primaries and allow the top two candidates, regardless of party, to advance to the general election.
Both expressed skepticism of a ballot measure that would legalize the recreational use of marijuana, saying Oregon should hold off and learn from the two states that have already taken that step. Kitzhaber said he'd vote against the measure. Richardson said he "would prefer if Oregon would wait a year," but he didn't directly say how he'll vote.