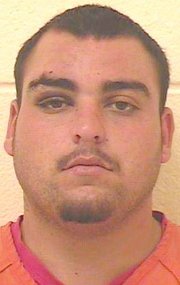 Juan Carlos Navarro, 20, was arraigned Monday in Wasco County Circuit Court for allegedly using a shotgun July 13 to injure one man at a Pleasant Ridge Road orchard camp and endangering two other people.
Navarro, who is unemployed and lives in The Dalles, has been charged with two counts of second-degree assault, two counts of unlawful use of a weapon and being a felon in possession of a firearm.
"There is no indication the shooting was gang-related in terms of what happened. Whether there were gang affiliations isn't part of the case," said Wasco County District Attorney Eric Nisley, who was given permission from a grand jury last week to proceed with prosecution on behalf of three victims.
Navarro is also facing sanctions for violating his probation tied to an August 2013 conviction for possessing and selling methamphetamine and endangering four minor children.
In that case, he and his mother were charged with the same crimes. The two were arrested at their Chenowith Road home after the Mid-Columbia Interagency Narcotics Taskforce executed a search warrant and found meth in the residence.
The children were taken into custody by the Department of Human Services due to poor living conditions and drug activity in the house.
Navarro will appear in court for the probation violation and possibly to waive his right to a speedy trial July 28. He is represented by Matthew Ellis of the gorge firm Morris, Smith, Starns and Sullivan. According to reports, the three victims in the current case were sharing a cabin at the orchard when the altercation with Navarro occurred.
The defendant allegedly fired a shotgun and hit one man in the foot and head with spherical pellets.
Nisley said the victim is recovering at home after having his wounds treated at Mid-Columbia Medical Center.
The report of shots fired was received by the emergency dispatch center shortly before 6 p.m. on July 13.
Nisley declined to provide further details about the incident because it is a pending criminal case. He said the suspect surrendered himself to The Dalles City Police and has been cooperative with the investigation undertaken by Wasco County Chief Deputy Lane Magill.
Navarro is being held at the Northern Oregon Regional Correctional Facilities in The Dalles on a $10,000 cash bail.
Anyone with additional information about the case is asked to call Sheriff Detective Sgt. Scott Williams at 541-506-2580.
NEXT TOP STORY: A Midsummer Night's Dream, at Maryhill