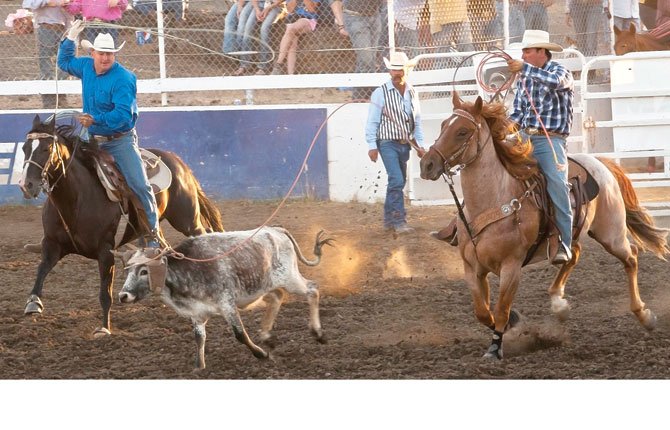 With time running out for a final score in the bull riding, Hood River native R.J. Hicks, representing Spokane, Wash., stepped to the forefront for a final tally of 78 to secure top recognition at the 49th annual Fort Dalles Days Rough and Wild Rodeo Saturday night at Milt Tumilson Arena in The Dalles.
With his 78, Hicks, who rode Sling Shot Wine, inched past Mike Sparks (76) by just two points to grab hold of top money in the $2,000 added event.
Heading into the final day, Kade McLean and Jerry Algers were 1-2 in the saddle bronc standings, but Weiser, Idaho's Casey Maddox had the last word in the matter.
Maddox, aboard Big Daddy, dipped and dove, fighting to 80 points to hoist a first-place award, edging McLean (79) and Algers (77) in one of the closest events of the rodeo.
Cooper Dewitt (74), Wade Kane (73) and Christian Stromler (70) capped the upper group of competitors.
Saturday also featured novice bull riding with Rooster taking control for 78 points and first place.
Breakaway roping had three participants separated by one-tenths of a point. Staring up at the scoreboard with Burns' John Berry Rose at 2.1 seconds and Roseburg's Alysha Moore in 2.2 for second place entering Saturday, Buena, Wash.'s Mary Ann Knapp had her work cut out for her.
She showed her mettle Saturday and notched a 2.3 for third place overall.
Seth Dalton had a solid run in the bareback riding on the final night with a 77 while riding Rip City, but that marker was shy of catching Wyatt Denny, whose 83 was good for first place.
Tony Buckman (82), Grant Denny (79) and Lyle Bounds (79) rounded out the order of the finish.
Caldwell, Idaho's Eric Knapp had a 7.8 in steer wrestling for the best time Saturday, which was good for top-5. Hermiston's Dalton Massey notched a 4.0 Friday and was able to ride that time to take hold of first place.
Taylor Gregg, of Touchet, Wash. scored a 4.2 for second place.
Terrebonne's Stevie Ray Willis picked up Gold in the barrel racing with a reading of 17.37 and Yakima, Wash. native Shane Falon blistered the pace with a 17.71 to move into second place.
Leah Crockett (17.73), Dana Storner (17.82) and Harley Byram (17.82) represented the top-5.
Saturday, Milton-Freewater cowgirl Sierra Bryan eclipsed 17 seconds as well and put out a 17.94 for top-5 in the standings.
Kyle Sloan, of Ellensburg, Wash., racked up a 9.9 in the tie down roping event for top honors, and Terrebonne, Wash.'s Shane Erickson dropped a 10.9 to take hold of second place.
Finishing in the top of the standings, New Plymouth's Matt Nauman battled through the trenches for a 12.1 for the best output of the final night.
In team roping, Hermiston's Jake Stanley and his mate, Renton City, Wash.'s Bucky Campbell, dusted off a 4.6 to take first place, and the tandem of Travis and Tyler Whitlow chalked up a 5.4 for second best.
The best time of the bunch Saturday was tallied by the duo of Newberg's Austin Woods and Dallas' Chase Richter, who had a 12.3 on the watch.