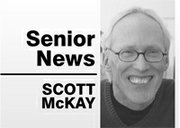 Do we always have to act our age?
Do we really have to stop dressing up for Halloween, or drawing with watercolors and crayons?
Or telling corny jokes we have all heard several times before (but still find amusing)?
If you are 92, should you really climb under the house when your wife is afraid she will have to call 911 to pull you out? (I don't think you really want to be the opening segment on the Channel 6 news: "Stubborn Geezer in over his head.")
It is difficult realizing there are some things you really shouldn't be doing anymore. (Although I don't have any qualms about no longer climbing ladders because I never did like climbing higher than I could reach).
If I stop doing something, whether it is a job like working under the sink or swimming laps — or even something I don't really enjoy, such as changing a tire — I feel as if I'm "giving up," as in accepting the gradual loss of ability.
I fear the loss of purpose that will continue downward to an eventuality I don't want to think about.
But I have to tell myself that is not really "giving up."
It is about being realistic about what I should still be doing, and not being blind to the changes that have taken place in mind and body.
"Giving up" is worrying about the doors that have closed, instead of opening your eyes to new doors that lead to more adventures and possibilities.

I admitt to not always making the wise choices as I struggle to keep some of the doors from closing.
I just hope I don't find myself on the evening news!
With the help of Ginny McNary, the Mid-Columbia Senior Center has scheduled four trips for this summer:
• The first trip is to the Oregon Gardens in Silverton on July 29 for a cost of $35, which includes transportation and admission.
• The next trip is on Aug. 12 to Cascade Locks for a one-hour cruise on the sternwheeler, followed by a no-host lunch at Charburger and a trip over to Stevenson to visit the Interpretive Center.
That adventure costs $50 for the transportation, a cruise ticket and entrance to the museum.
• The final two destinations are Portland on Aug. 26 for a two-hour Portland Spirit cruise with lunch for $60. And the Warm Springs Museum on Sept. 2 for $30.
All the trips are on Tuesdays and transportation is provided by Sherman County Transit.
There is only room for 20 for each trip and we are now accepting payment to hold your spot on the bus. For the Oregon Gardens we already have ten spaces filled.
Thanks to the generosity of Flagstone Senior Living and the Mid-Columbia Area Agency on Aging, there will once again be a "Senior Picnic in the Park" at the Wasco County Fair on Thursday, Aug. 14 (free admittance day sponsored by Mel's Sanitation).
The event begins at 11:30 a.m.. And you can let LINK do the driving! The bus will leave the center at 10 a.m. and start the trip back after the picnic around 1 p.m.
Cost is $3 each way and seating is limited to only 14, plus two wheelchairs. Call the center to reserve your place.
The name of the popular series of children books that included Pokey Little Puppy and was first published in 1942 selling for 25 cents is the Little Golden Book series. (And the winner of a free Saturday Breakfast is Bette Nelson.)
This week's "Remember When" question is back to the category of music but not the rock and roll variety.
Born in 1924 this American composer, conductor and arranger is best remembered for his film and television scores and is often cited as one of the greatest composers in the history of film.
Who wrote the themes for movies and television featuring a colorful cat, body of water and a firearm?
E-mail your answer to mcseniorcenter@gmail. com, call 541-296-4788 or mail it with a case of Oh Henry! candy bars.
Well, it's been another week — what more can I say? Until we meet again, as Dave Lutgens once told me "Don't take life too seriously. You will never get out of it alive."
"I believe that if life gives you lemons, you should make lemonade... And try to find somebody whose life has given them vodka, and have a party." Ron White, comedian.
Menu
Wednesday (23) Beef Stroganoff
Thursday (24) Pork Roast
Friday (25) Sweetish Meatballs
Monday (28) Lemon Peppered Fish
Tuesday (29) Taco Salad