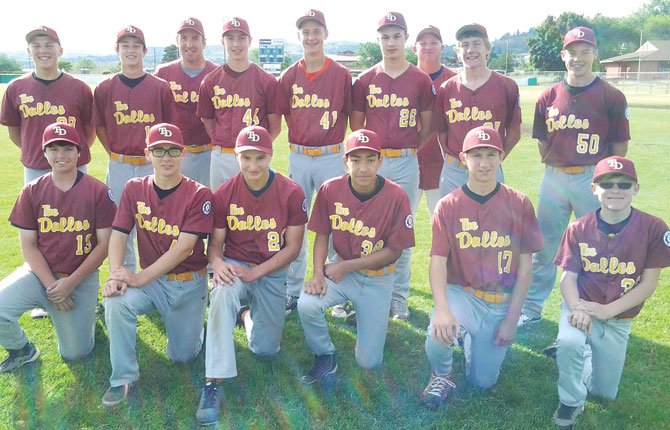 All that stood in the way of The Dalles 14U All Stars and a berth into the state championship was a tough semifinal showdown against Pendleton, a team they had beaten 3-2 earlier in tourney play.
Unfortunately for The Dalles, all the bounces that had gone its way through the first two days could not be duplicated in Saturday's action, as TD lost 4-3, but battled back for an 11-4 triumph over Salem/Keizer to score third place amongst the field.
"Even though we fell short of our goal, which was to win the tournament, we felt like it was an overall success," said The Dalles skipper Jeff Justesen. "We played some great baseball over the course of three days and everyone contributed in some way."
In the contest opposite Pendleton, The Dalles fell behind 4-1 through five frames and staged a late rally to make things interesting.
Down by those three runs in the fifth frame, Connor Uhalde singled and Bailey Keever walked to put two runners on base.
Two outs later, Jose Gonzalez came to the plate with a chance to move his group closer.
On a 2-2 pitch, Gonzalez had a half-swing and appeared to swing and the Pendleton catcher rolled ball back to the mound thinking it was third out.
All of the Pendleton fielders left positions and the Tribe runners left their bases.

When it became clear the umpire did not call Gonzalez out, the Pendleton fielders scrambled to tag the runners who were returning to bases.

After about a five-minute delay to sort it out, runners were allowed to return to bases and Gonzalez returned to the plate with a full count.

Gonzalez doubled to deep left to score Uhalde and Keever to make it a 4-3 matchup, but he was thrown out trying to go to third for the final out to end the rally.
Pendleton went down in the top of the seventh, so The Dalles had three outs down by one run to try to stage a rally and move into the title game.
Bradley Moe kicked things off by reaching first base on an error by the Pendleton shortstop.
Coach Justesen inserted Chad Hester as a courtesy runner, so a rabbit was loose on the basepaths.
The next two batters went down on a strikeout and a popup, so William Justesen was the final hope.
The right-handed slugger swatted a single to left field to move Hester into scoring position.
With Trey Homer at the dish, Hester easily swiped third to put runners on the corners and two down.
Homer worked the count and finally got a pitch to hit and rifled a hot shot to the Pendleton pitcher, who threw his glove up in self-defense to make the catch for the final out and give Pendleton a win and a title berth.
"It was another great game against a tough, obviously well-matched opponent," coach Justesen said. "We made a few base running mistakes and a few errors that we had not been making. When you play against a good team like Pendleton, you have to make every opportunity count."
Jacob Justesen and William Justesen had two hits each to lead The Dalles. Gonzalez had his double and the trio of Brody Woods, Kolbe Bales and Connor Uhalde notched hits.
Keever tossed a complete game with seven strikeouts and of the four runs allowed, none were earned.
Although distraught with having title hopes fall by the wayside, coach Justesen had to do his best to rally the troops in order to have them finish the summer session on a winning note.
The Dalles led 4-1 through two innings, added five runs in the third and capped the scoring with two runs in the sixth frame to pick up an 11-4 winner over Salem/Keiser.
In the third inning, Uhalde rapped out a two-out single. Hester then singled, and Homer singled to score Uhalde.
Kristos Kiser singled to score Hester, and Jacob LaFrenz singled to score Homer and Kiser.
Up by a comfortable margin entering the sixth stanza, William Justesen hit a leadoff single.
Keever followed with another single and Moe cashed in William Justesen and Keever to swell the TD advantage to 11-4.
Uhalde then held Salem/Keizer down in the seventh with a 1-2-3 inning to close things out.
Homer tossed three frames with six strikeouts to earn the winning decision.
Gonzalez had two scoreless innings, and both Moe and Uhalde pitched an inning each.
"It was a bittersweet game," said coach Justesen. "We had just lost a very emotional game to Pendleton and didn't make the championship game, but wanted to end with a win. The guys stepped up and played hard."
Looking at what his team was able to accomplish, coach Justesen was proud of the offensive contribution from everyone in the batting order.
In six games, TD scored 78 runs and the pitching displayed an ability to shut down the opposition.
The Dalles will be hosting the 13-15 Babe Ruth Regional tournament next year, so a vast majority of this core group will be back to show they can compete at a top level against some of the best teams.

Coach Justesen is counting down the days.
"It will be great to see how they stack up against that level of competition," the coach said. "This is such a great group of kids to coach. They play hard, they are respectful, they accept their roles and they really love to compete. It is a privilege to be part of it."
NEXT TOP STORY: Editorial cartoons from July 22