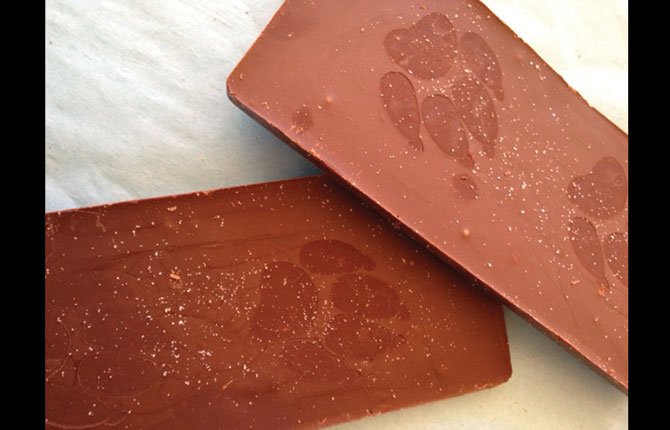 The Chocolate Lab has reopened its store at 214 Washington St. after a temporary closure for remodeling and to get a second store up and running in Hood River. Owner Sunde Carroll has also signed an agreement to become an exporter of her own hand-crafted chocolate.
The two stores now have similar décor to maintain a consistent image between them. The Dalles store will focus solely on chocolate and coffee, while the larger Hood River store will maintain an inventory of salt blocks, salt, vinegars and other products for the gourmand in a gallery setting.
Both stores have a gallery feel and feature the works of The Dalles artist Mary Rollins, among others.
In addition to her own chocolates, Carroll's store in The Dalles also carries imported chocolate from all over the world. She is also the only Oregon retailer of Cape Foulweather coffee outside the coast area.
Carroll has also added some new flavors to her repertoire including honey and fennel caramel, and black truffle and sea salt caramel.
"I'm going away from some of the old molds to a more hand-cut, hand-crafted style," Carroll said. The shop's lavender caramel, for example will be made in larger pieces and topped with a sprig of fresh lavender.
Carroll is working with an exporter to produce her own line of chocolates called the Grace Bar after her 6-year-old pet chocolate lab, Grace. The bar wrappers were designed by Optimist Printers and the bars themselves will bear a special imprint, paw prints on the back side.
"The idea is for the chocolate bars to look like Gracy has been walking on them," representing in the outdoor recreation fun of the Columbia River Gorge, Carroll said.
After stocking chocolate bars from around the world on her own shelves, Carroll is excited at the thought of seeing her own stocked on shelves around the globe — and the notoriety they will bring to the gorge.
"We just landed the gorge on the map internationally," she said.
The bars are already available in the gorge — when Carroll can keep them in stock. The flavors include honey, pear and chili, lavender and rose salt, black truffle and sea salt and basil and lime.
Carroll will host a chocolate and wine pairing event at her Hood River shop this Friday, July 25, at 7 p.m.