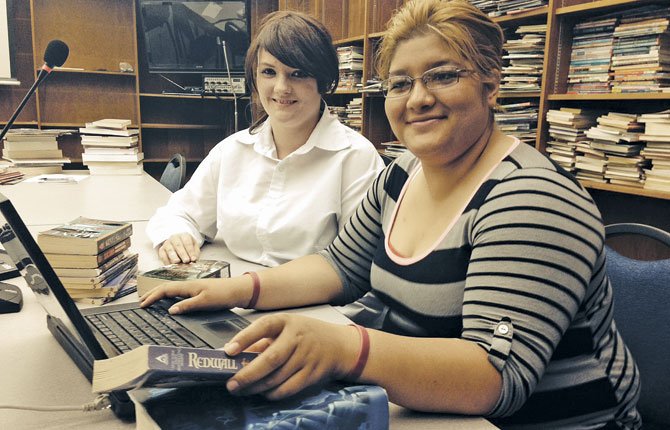 There's a new library in town, and students at Wahtonka Community School are reaching out to local residents to help fill its shelves.
Zara Hernandez-Sanchez, 18, and Denise Stillwell, 16, are the student librarians in charge of collecting and organizing the donations for which they say the Community School Library is in desperate need.
"As you can see, most of the shelves are empty," Stillwell said, gesturing widely to shelf after unoccupied shelf. "We want to start filling them up with as many different kinds of books as we can so anyone in the community can come in and find something they want to read."
The students' project is one of several they are working on that earn them credits toward graduation.
The inspiration for the project, Hernandez-Sanchez said, stemmed from her long-time passion for reading.
"I love books and I love showing people all the knowledge that can be brought just by reading," she said. "So I wanted to do something that would help bring more of that into the community—especially the west side."
The Wasco County Library is located on the opposite end of town, making it more difficult to gain access to for those living on the west side, particularly those with no other means of transportation besides walking.
"There's only one library here besides the school ones and it takes a while to get there if you live all of the way across town," Stillwell agreed. "We thought it'd be really nice to give people another choice, because everyone deserves easy access to free books."
Hernandez-Sanchez said, as an avid reader and west The Dalles resident, she'd often felt the burden of the distance.
"During the summer, I had to pack three water bottles with me because it was so hot and it just took forever to get there," she recalled. "It was a really long walk in the summer or the winter, so eventually I just stopped doing it. Now I have a bike and that's made it a lot better."
Hernandez-Sanchez said she didn't want other people to face the same dilemma she had, so instead she and Stillwell hope to bring a more accessible alternative to the community.
"Since the Community School's year-round," she said, "We're hoping to be open a lot during the summertime."
As for donations, the Community School already has quite a few children's picture books and middle-grade fiction series, but is lacking in titles aimed at older audiences.
"Right now, we're mostly looking for fiction for older students and adults," Hernandez-Sanchez said.
Both students say they'd appreciate anything from popular young adult series like Harry Potter to the latest Stephen King novel, to classic literature and genre fiction—everything to furnish a diverse community library.
Hernandez-Sanchez and Stillwell each said a passion for creative writing spurs on their enthusiasm for the project.
While Hernandez-Sanchez said she enjoys writing poetry and reading science fiction and fantasy, Stillwell said she's inspired by film and has even tried her hand at writing a few scripts and screenplays.
"Once we're all set up, we plan to start a story time for young children weekdays either before or after school," Hernandez-Sanchez said. "There are definitely a lot of possibilities."
To arrange a donation, call Hernandez-Sanchez at 541 980-2579 or Stillwell at 541 980-5854. Boxes of books can be delivered to the Wahtonka Community School Library at 3601 West 10th street from 10 a.m. to 2:30 p.m., Monday through Thursday.