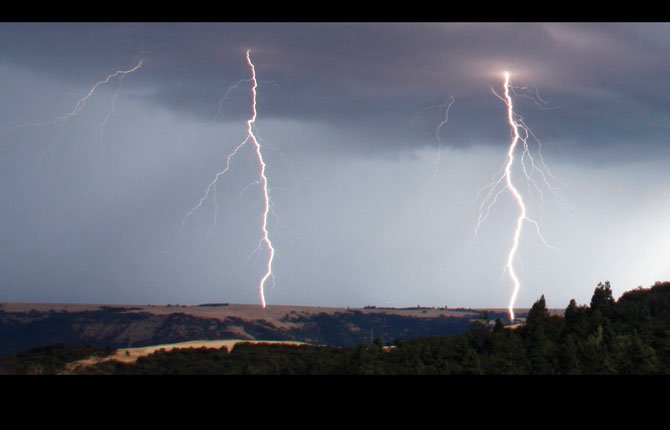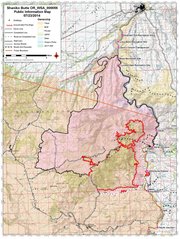 Firefighters reported some benefit this morning from the moisture thunderstorms that swept through north central and central Oregon overnight, but were waiting to learn if any lightning strikes ignited the already fire-scorched areas of Wasco, Sherman and Wheeler counties overnight.
"They were reporting about 900 ground strikes on the Warm Springs reservation," said Wayne Patterson, public information officer on the Shaniko Butte Fire. "At this time we don't have any that we're chasing. On the rest of the fire, we ended up getting about a quarter inch of rain and that helped change our strategy."
Firefighters had planned to continue burning out the interior of the grass-fueled blaze, but since the rain are focusing their work at the edge of the fire.
"It definitely helps us put a pause on the fire," Patterson said. "We're hoping it will stay pretty moist until well into afternoon."
The fire has remained 75 percent contained for two days now. Surveyors were also able to revise downward the acreage burned as smoke cleared yesterday. The fire is now estimated at 40,575 acres.
"So much was obscured by smoke that we actually went down from 42,000," Patterson said. "There is more of an unburned island up against one of the old fires."
Fire managers continue to release more firefighters to battle other fires in more need, he said.
Firefighters on the four-fire Pine Creek Complex continued to make gains overnight. While those fires received only a sprinkling of rain, according to Robert Duggan, public information officer trainee, containment gains continued.
The Jackknife Fire near Grass Valley is 100 percent contained. The Black Rock Fire near Antelope is at 85 percent containment. The Donnybrook, also near Antelope, is 80 percent contained, as is the Pine Creek Fire near Fossil.
Duggan said two new lightning fires totaling about three acres were reported within the complex boundaries were quickly extinguished. However, others could emerge.
"They're checking for anything else that may have popped up," Duggan said. "That's normal with lightning. We may not know until this afternoon when it heats up a bit, but we have a good amount of crews working here."
Anyone who spots a possible lightning-started fire is urged to call 911.