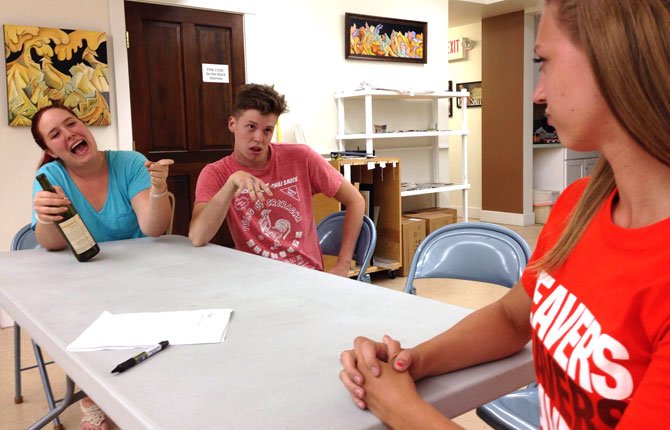 "The dinner table is set, the family is gathered… and everything just goes downhill from there."
That's how Augustus Thomas, writer and director of After School Production's latest summer one-act describes "Soap."
The short 15-minute play, which runs Thursday through Saturday at 7:30 p.m. at The Riverenza, located at 401 East 10th Street, Thomas characterizes as a dark "tragicomedy" fit for adults and teens 14 and older.
A The Dalles High graduate and student studying theatre and Spanish at Whitman College, Thomas said he first came up with the idea for the play when he was asked to write "the worst play ever" for a class.
"I started thinking about all the things I really hated," he said, grinning. "The worst sitcoms on television are where they throw in a pregnancy for no reason just to get the plot boiling — so that's exactly what I did."
"Soap," he said, is based on the premise of a "popular but terrible" sitcom that's recently been cancelled and is on its final on-air showing, with each episode based around a particular holiday. The play begins with one of the characters discovering she's pregnant, and from that point onward, Thomas said he tried "to make as many horrible things happen as quickly as possible."
"It's all about playing with extremes in terms of the family dynamics," he said. "I have a drunk grandmother in the play who is really belligerent, while the parents meanwhile aren't even talking to each other and the troubled teens are convinced their lives are awful. Forcing all these personalities together makes for a great mix that's definitely entertaining to watch."
One question Thomas said he continued to ask throughout the writing process was why people can sometimes find tragic events entertaining.
"A big inspiration for this was ancient Greek tragedies," he said. "They can be really absurd—sometimes even to the point that when someone dies, it's actually funny. 'Soap' prods a bit at why people can be compelled to laugh at another's suffering, and what we've done is transitioned the tragedy to the modern setting of a family dinner table instead of the temple of Zeus."
"My goal with this play is to show students in The Dalles that they can write what they want and that you don't necessarily have to censor yourself to make it work," Thomas said. "It's important the audience sees that the actors are genuinely enjoying what they're doing and not to focus too much on the potential controversy — it's okay to give in to the humor and just sit back and enjoy."
Elaborating on the nature of the play's humor, he said, "I was advised to pick a mellow play The Dalles would like, but I did that last year, and we didn't get the audience we'd hoped for. So this year we're trying something different, and we hope the off-the-wall humor draws in a crowd."
When asked why he decided to base the play's action around the dinner table, Thomas said the idea was inspired by his own observations.
"Eating is so interesting because everyone has their own unique way of doing it, you know? It's just so illustrative of character," he said. "For example, the cynic [of the play] is very picky with food, while the kids eat very differently from their grandmother, who doesn't eat at all. How they deal with food says a lot about their characters."
"There are lots of moments in the play where the humor really leaps out at you and it makes it hard to resist the urge to laugh," he continued. "The action just keeps on coming, and it's designed to keep the audience on their toes a bit. Don't expect to be bored."
Tickets are $5 each at The Riverenza, where a complimentary dessert will also be provided for play attendees.