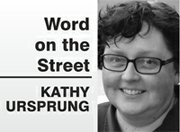 As you probably know, half of the people who work in this country work for small businesses. And it's more than that, because two out of every three net new jobs come from small business. So we mean it when we talk about small business being the engine for the economy. — Karen Mills
(It's National Independent Retailers Week.)
Button up that overcoat: It may only be July, but this is a good time to consider what can be done for a business or a home to keep the winter cold (and the summer heat, for that matter) at bay and power bills at a minimum.
Northern Wasco County PUD has a few ideas on the matter. The electrical utility still has money available this year for weatherization and other conservation programs. The PUD has only spent 63 percent of its allotted conservation credits from the Bonneville Power Administration and wants to make sure all the available credits are put to good local use, Kurt Conger of the PUD told the board of directors Tuesday.
Projects can include weatherization, heat pumps, water heaters, energy-efficient appliances, and commercial lighting, among others.
Call the PUD for details at 541-296-2226 or check out the PUD website at www.nwasco.com.
Nikolai would be proud: We announced earlier this year that Tesla Motors had reached an agreement with Cousins Country Inn to install charging stations at their location in The Dalles. It's part of Tesla's plan to install chargers all along interstate highways throughout the United States.
The report from Northern Wasco County PUD is that six stations are being installed in former parking spaces near the Cousins swimming pool. Electrical service for the stations is expected to be operational next week, said Steve Horzynek of PUD operations.
Tesla's unusual business model, providing free power for its electric cars, has other car producers taking notice.