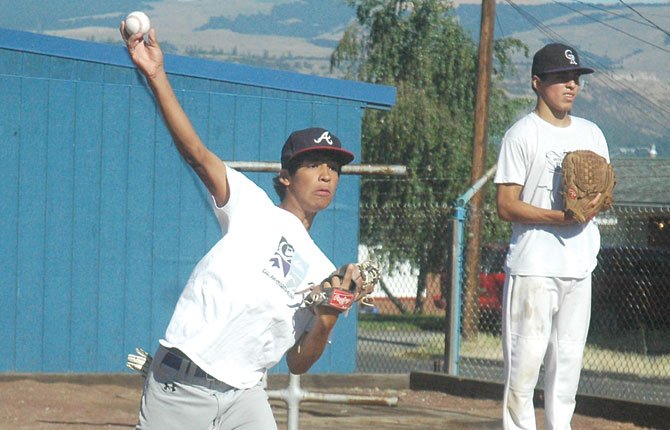 The wait has been excruciatingly long for The Dalles 15U babe Ruth All- Stars.
Since losing four consecutive games by a 71-29 margin last season in state competition in The Dalles, every player on the roster has been determined to make things right this time around.
They get their chance this weekend to make things right and keep the season going with a top-2 output in Ontario for the Babe Ruth State Tournament.
"We are ready," said Boston Bate. "We did not like the way last year ended and it made us mad. We know we are a better team than we showed last year. Now we have our chance to go out and show what The Dalles is all about."
With that disappointment as motivation this summer, TD has amassed a 19-3 record in 22 preseason and district games.
At the district tournament played on July 12-13 at Kramer Field, The Dalles outscored both Pendleton and Clackamas in three games, 16 innings, by a 39-1 margin, while rapping out 26 hits.
"I think we showed what we can do when we are all on the same page, playing together as a team," said Denzel Arellano, who plays infield and catcher and pitcher for this All-Star group. "We are focused and we want to do good for each other. This could be our last chance and I know we want to go out and make it count. I am excited about what we can do in Ontario."
They will undertake pool play contests today and Friday, July 25.
In order to qualify for the bracket rounds and championship Saturday, TD needs to finish in the top-4.
Since British Columbia dropped out of regionals, the top-2 teams advance to play in Baker City from Aug. 5-10.
A few things that helped The Dalles two weeks ago was the fact that this group played aggressive offense for from start to finish and limited fielding and throwing miscues.
Pitching also proved to be tough for the opposition to deal with.
Bate, Westin, Cameron Wang, Dylon Jinkins and several others will see extended time on the mound throughout tournament play.
Arellano and Bate showed their leadership elements.
John Miller, Westin, Preston Klindt, Jacob Wetmore, Aaron Maney, Wang and Max Martin provide an impressive skill set to make head coach Sean Herriges' job much easier.
"Nothing has really changed. It has all been there since the beginning since we were nine and 10," said Klindt, who went 5 for 7 during District 5 action. "We have hit and fielded just as well, but now it is about us coming together as a group and not making as many errors and all the little things that hurt us."
Jinkins, Izaac Tapia, Dawson Hoffman, Tanner Herriges and Matt Changar add depth and playoff experience to the table for roster draped with Little League champions, All-Stars and Junior Baseball Organization standouts.
No matter if a player is a starter, a defensive switch, a pinch runner, reliever or pinch hitter, Westin knows every player is just as important.
All of these interchangeable parts make the machine run at an optimum rate.
"With this group, I feel that we can go as far as our focus can take us," Westin said. "As long as all of us, one-through 14, stay in this game, we can beat any team that is out there."
From the first time he saw the majority of these players on the field, coach Herriges knew there was a limitless potential.
He has believed in them, through the adversity and triumph and now this squad has a golden opportunity to cement a legacy for years to come.
"We know they will be there to give it 100 percent," the coach said. "They are going in confident. They have put it all together this year. They are different club now. They are ready to go. You can see it in their play. They are rarely down and they pick each other up and it has been a pleasurable experience."
The Dalles played games at noon and 3 p.m. today on two fields.
On Friday, TD hits the diamond at Ontario High School at noon. At 6 p.m., this 15U group plays on the campus of Treasure Valley Community College at Elks Memorial Field.
READ NEXT TOP STORY: New lightning fires arise