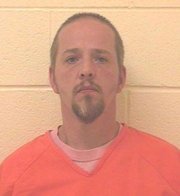 Esten Alton Mounsey, 39, of The Dalles will be represented in a rape and sexual assault case by Amy Lammers of the gorge firm Morris, Smith, Starns and Sullivan.
She told Judge John Olson at Mounsey's July 22
arraignment that she would be requesting a reduction in his bail, which is now set at $750,000.
Mounsey is accused of attacking a known female. If convicted, he faces a Measure 11 mandatory minimum sentence of 100 months for first-degree rape and the same for sodomy, plus thousands of dollars in fines. He is also being prosecuted for sexual abuse, assault and strangulation.
According to police reports, Mounsey was arrested the afternoon of July 21 at his home on East 14th Street by The Dalles Police Det. Jamie Carrico. Police logs show an earlier call to the house on a domestic violence report Sunday morning.
Wasco County Chief Deputy District Attorney Leslie Wolf told Judge John Olson Tuesday that Mounsey had relocated to The Dalles from Alaska and she was not aware of any prior criminal history.
READ NEXT TOP STORY: Unwelcome guest lingers in Grass Valley area