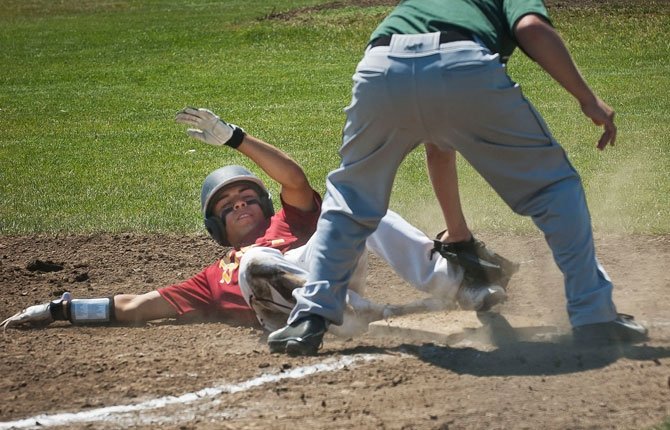 A rag-tag bunch of baseball players has attacked district play like piranha.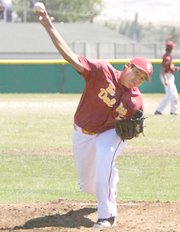 In two state tournament games, they have been great white sharks circling their prey in the rushing waters.
Behind two lights-out pitching performances from Jacob Wetmore and Boston Bate, The Dalles 15U Babe Ruth All-Stars set the winning trend Thursday in pool play with big wins over Pendleton and Union County in Ontario.
Even with two victories by a combined 25-4 margin, head coach Sean Herriges said his group has taken things personally at this point in the season.
"They are enjoying the role of being David and knocking off Goliath," the coach said. "They got a chip on their shoulders. They don't feel respected by anyone. I couldn't be happier with the position we are currently sitting in. We got four games ahead of us. We will take it game-by-game, but we have the momentum on our side."
For the first time in a while, The Dalles fell behind on the scoreboard, as Pendleton took a 1-0 lead through a half an inning.
The Dalles rallied back with six runs in the bottom of the first frame and tacked on a single run in the third and struck for six more runs in the fourth frame to put the game out of reach.
Riding that offensive surge, Wetmore was dialed in and absolutely dominated Pendleton in his complete-game effort.
The tall right-hander tossed five innings of two-hit ball with six strikeouts on 72 pitches. The one run allowed was unearned.
Herriges was thoroughly impressed by the lockdown pitching output by Wetmore.
"He is just a solid player. Jacob is a different player when he takes the mound," the coach said. "He had tons of support and was just rock solid out there. He had a dominating changeup for the day and he kept them off-balanced."
The middle of the order of Bate, Wetmore and Preston Klindt imposed their will on the opposition by going a combined 3 for 4 with seven runs scored, four RBIs and five stolen bases to pace the six-hit attack. The Dalles also worked six walks and swiped a perfect 8 for 8 on stolen base attempts.
"Getting those six runs early set the tempo for the whole day," Herriges said. "We were down by a run. All season, we have not been used to being down. They just had that will and that desire to pull through and take the lead. They started to relax more and let the game come to them. Everything else just fell into place."
Feeling their oats after such a strong start to state action, Bate matched Wetmore's work on the mound with 5 2/3 innings of one-hit ball to lead The Dalles to a 12-3 winner over Union County.
In the past two years, Pendleton has enjoyed a 3-0 record against The Dalles, where each contest had been decided by one run.
Bate made sure to eliminate any doubts to the outcome by retiring Union County batters one-by-one, holding this potent group hitless until two outs in the sixth inning.
Finally, he hung a curveball to one Union hitter for a double that ended the no-no.
Bate struck out six, walked five in his 93-pitch journey.
"I really would have liked to have seen him throw a no-hitter," coach Herriges said of his long-time ace. "Of all the kids that I have coached, Boston is a special player. He is passionate about the game. It was a shame that he couldn't get the no-hitter. He said it best after the game, 'we got the 'W' and that is what it is all about.' He is a team-first guy, he is the captain of the club and I couldn't be more proud of the effort he gave."
In the Union game, The Dalles scored in six of the seven innings, using three-run spurts in the first and sixth innings to place their stamp on matters.
Hoffman had an RBI and Bate helped his cause with a two-run single to give TD a 3-0 lead after one frame.
Johnny Miller, who went 4 for 4 on the day, started the rally with a single.
Wetmore cashed in two runs on a single, and Klindt capped the barrage with an RBI single.
Bate, Wetmore and Klindt followed up their opening game smash attack by adding a combined 6 for 12 hitting output with seven RBIs, four stolen bases and three runs.
Miller scored three times and had an RBI and Hoffman went 2 for 3 with three runs and two RBIs.
When Miller, Hoffman and Arellano are wreaking havoc on the basepaths, The Dalles offense is a well-oiled machine.
"Johnny, Dawson and Denzel have done a great job of getting base for the big power bats," coach Herriges said. "It just puts a lot of pressure on the other team, especially when you are scoring in bunches. It all comes together because our pitching and defense have been doing a solid job of doing their part."
With the two wins, The Dalles is now 22-4, a record Herriges admitted could very well be 26-0 if not for a few bounces.
But with this two-game kickoff, this crew is two more victories from claiming a top seed headed into championship bracket play Saturday afternoon
"This team is focused. They want to get the No. 1 seed," Herriges added. "If they can win both games today (Friday), they will have that. We are gearing up. We want to go to regionals and that has been the No. 1 goal for them for quite a long time. We want to win the state championship first though. They have never done that."
Today, TD hit the diamond at Ontario High School at noon against a tough Snake River Valley American team.

At 6 p.m., this 15U group plays the SRV Nationals on the campus of Treasure Valley Community College at Elks Memorial Field.
NEXT TOP STORY: Langer heads to Distinguished Young Women competition in Salem