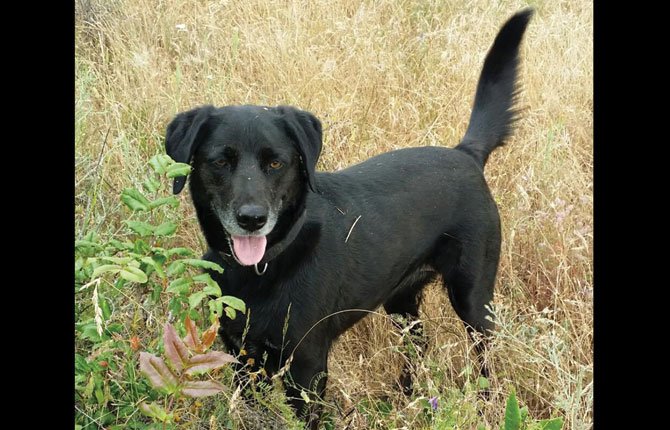 The apparent abduction, return and second abduction of a Labrador retriever has left her Sevenmile Hill owners at once stymied and distressed.
"Emma" had been a gift from Billy and Patricia Ferguson to well-known The Dalles area businessman Donald Alan Martin and his wife, Iris. When Don Martin died in 2008, his wife offered to return Emma to the Fergusons, which they accepted.
"They were happy to get Emma, not as the wild puppy but now a more calm and pleasant black lab with a very sweet disposition," wrote Patricia Barnes, Billy Ferguson's daughter and caretaker. "The next several years were very happy for Emma, roaming the nine acres on the small farm and as a constant companion to Billy."
Then, more than three years ago, Emma vanished. The family feared a cougar attack or that she was lost in the woods. They searched the surrounding property and hills but found no sign of Emma.
"As with the loss of any beloved pet, the wounds were slow to heal," Barnes wrote.
In the years after, Billy lost his beloved wife, Patricia, to cancer after caring for her in her final years.
"The loss was devastating and Billy's health went into serious decline as his congestive heart failure now had the added 'broken heart failure'." This year alone, Billy has been hospitalized five times, Barnes said. His family members have teamed up to stay with him during his poor health.
About three weeks ago, he was standing on his deck, enjoying the view of The Dalles when a commotion at the top of his drive drew his attention. A white vehicle, either a van or pickup and canopy with a loud exhaust, stopped, then drove away in a spray of dust and gravel.
"As the dust cloud settled, out of the smoke stepped a black dog walking down the driveway," Barnes wrote.
Billy didn't immediately recognize the dog, which now had grizzled white on her chin and cheeks. But she turned her head whenever "Emma" was called. Billy took her to Home at Last Humane Society, which was able to confirm the dog was, indeed, Emma.
"Billy didn't spend too much time on the why," Barnes wrote. "He was just happy to once again be roaming the farm on his golf cart with Emma trailing alongside."
But his happiness was short-lived. On July 20, while Billy was again hospitalized, Emma vanished, again without a trace. Once again, the family searched the surrounding woods, hills and roads. They called on neighbors, hung flyers and posted ads. The family was left to wonder what kind of person returns a stolen dog for several weeks only to wreak the same havoc all over again?
"Is it possible Emma went looking for her former home? We don't think so," Barnes said. The black retriever would have stood out starkly against the pale yellow, dry lands as the family searched the countryside.
Also, a couple of vehicles had stopped in the driveway just before Emma's second disappearance to ask questions about a second dog the family owns, claiming the inquiry was on behalf of a cyclist, though no cyclist was seen.
"We think they were checking out the new dog to see if it was harmful," Barnes said Thursday.
The family would like to find answers to the mystery of Emma's disappearance.
"But, mostly, we need the dog back to comfort our father in the short time he has left," Barnes said
A volunteer at Home at Last confirmed the story.
"I think it's just awful," said Bev LaGow. "I don't know who took the dog originally. It's just sad. Hopefully, whoever has taken the dog again will return it. I know how happy [Billy] was when the dog came home."
READ NEXT TOP STORY: Diamond sharks circling their prey