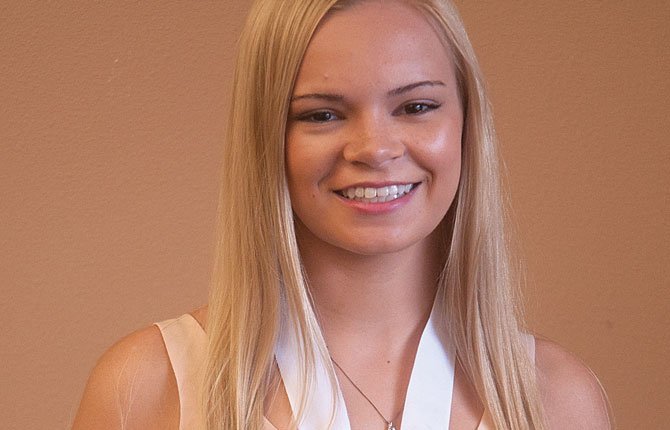 When her little sister started taking dance classes, Sydney Langer said it wasn't long before she began begging her parents to let her dance too.
"When she started doing it, I got really interested and wanted to do it too," she said. "But by then I was 11 and my parents told me, 'You're too old.' I kept at it, though, and eventually they gave in."
Langer said she first learned of the Distinguished Young Women scholarship program as a wide-eyed eighth grader watching all the older girls perform on stage.
"I watched them walk on in their dresses and heels and knew it was something I wanted to do in the future," she said. "I started dancing when I was 14, and now it's such a huge part of my life — everything revolves around it."
A The Dalles High senior this fall and the 2015 Distinguished Young Woman of Wasco County, Langer said she has a persistent nature when it comes to pursuing her goals and has a habit of throwing herself into the activities she's committed to.
"I'm a dancer in The Dance Club Academy with Kristi Maley," she said, "but I also take gymnastics and do cheer and dance team at the high school."
Langer said that means the dancing is basically non-stop, with hours of practice packed into almost every day of the week.
Now Langer has added preparing for Distinguished Young Women events to her busy schedule.
"I really don't have time for much else, but when it comes to school, I've always loved science," she said. "This last year, I took three AP courses, and one of them was AP Bio. Science is really challenging, but also really interesting, which is why I take so much of it."
Langer plans to earn a doctorate and become a forensic anthropologist.
"I took a forensics intro class last year, and that just reassured me it's definitely what I want to do — so I consider that my all-time goal."
A self-described "competitive" spirit, Langer has already won $5,000 in scholarship money after impressing Wasco County judges in the local competition with her lyrical dance routine set to the tune of "Titanium" as covered by musician Madilyn Bailey.
"The dance I'm doing for state is basically the same as the one I did in April," she said, "and now I'm just going to make sure it's the best it can be before the final program night."
Langer leaves for Salem July 27 for an entire week packed with fundraising events, tours of the capital and rehearsals before she competes against seven other contestants from across the state in the Distinguished Young Women of Oregon performance Aug. 2.
"Mostly, I'm excited," she said. "This has all been a great experience, and you get so close to the other girls in the program and learn so many life skills along the way ... Now I know how to speak in an interview and present myself in a way I can be proud of. It's been good for me in so many ways and I'm really looking forward to giving it my all at state."
READ NEXT TOP STORY: Pot may be legal, but homeowner agreements can ban