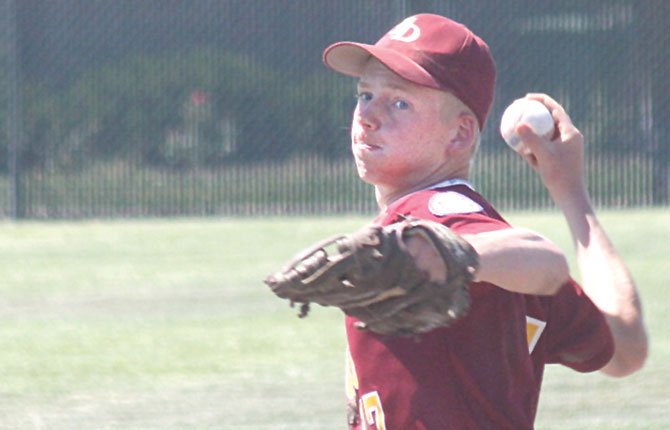 Maybe it's maturity.
Maybe it's focus, drive and determination.
Or perhaps it's a lucky charm Beta fish named Mojo swimming in his plastic bowl in the dugout.
Whatever the case, The Dalles 15U Babe Ruth All-Stars have come out charging with reckless abandon in scoring four consecutive wins to secure a No. 1 seed and one win from a regional playoff berth.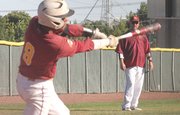 "Their mentality is absolutely incredible," said TD head coach Sean Herriges. "They do not want to lose to anybody. Not only do they not want to lose, they want to 10-run everybody. Their confidence is the highest I have ever seen it as a coach. This is the most emotional plus that they have ever played with. I am not their lightning rod, which is good, because they are all doing this on their own."
After wins Thursday over Pendleton and Union County, The Dalles went to work against the host teams, the Snake River Valley American and Nationals.
There was never any doubt.
TD dropped the Americans 12-1 and vaulted into the championship bracket as the tournament's lone undefeated squad with a 10-0 mercy-ruled thrashing of the Nationals Friday in Babe Ruth State Tournament play in Ontario.
Johnny Miller chalked Player of the Game status in both games and Tyler Westin battled through a painful hamstring injury to showcase his dominant stuff on the mound in the nightcap.
To kick off festivities, Miller toed the slab in the opening game in the newly-built facility at Ontario High School and christened it the only way he knew how.
In just his third appearance of the 2014 campaign, Miller tossed a complete-game, five-hitter with five strikeouts, as The Dalles broke open a 4-1 lead with eight unanswered runs in the final three frames to cruise to a 12-1 win.
"Johnny was electric," Herriges said. "He came out and threw strikes and never gave them anything good to hit. When they did hit the ball, our defense made all of the plays. It was great to watch."
Up 4-1 entering the top of the fifth inning, The Dalles all but slammed the door shut with a five-run spurt.
Boston Bate had an RBI sacrifice fly, Jacob Wetmore drove in another run with a scorching double, Preston Klindt added another RBI single and Tanner Herriges smoked a two-run double to cap the frame.
Of the seven hits, Wetmore paced the TD offense with a 3 for 4 split.
He scored three runs, swiped two bases and had an RBI.
Miller went 1 for 3 with three stolen bases, two runs scored and an RBI, and Tanner Herriges churned out a 1 for 1 day with three walks, three stolen bases, two RBIs and two runs scored.
"We are playing great defense, we are pitching great, we're getting the hits when we need them and we are getting outstanding base running," coach Herriges added. "Everything is clicking for us."
After this opening win, coach Herriges huddled his group in the outfield for a postgame speech and announced that Westin was going to get the starting nod.
An emotional cheer erupted from the circle as a show of solidarity.
Then the bearded maestro went to work on the mound on one good leg.
Westin lasted four innings and scattered two hits, while striking out four and walking one in his 48-pitch effort.
He also added a two-run double in a five-run third frame in The Dalles' 10-0 mercy-ruled triumph.
"When I told the guys, Westin was throwing, you could just feel the spirits of this team lifted," coach Herriges said. "Tyler gutted it up. He had all four pitches working and it breeds confidence when you have a starting pitcher sacrificing his body for his team like that. It was very emotional for us. They did not want to spoil his effort, so these players came out ready to go and just performed well."
Staked to a 1-0 leading at the start of the third inning, The Dalles added some insurance runs to the scoreboard.
Miller, Dawson Hoffman and Denzel Arellano each walked to put some ducks on the pond.
Bate drove in two runs with a hit, Klindt had an RBI single and Westin roped a two-run double. Once the final out was recorded, The Dalles enjoyed a 6-0 cushion.
TD would then add two more runs in the fourth inning, and Westin retired the side in the bottom of the fourth to end his day.
Cameron Wang entered for the final two frames and set down six in a row to seal the win.
Seven players had a hit apiece to lead the seven-hit attack.
Once again, the top-3 in this highly-potent batting order, Miller, Hoffman and Arellano combined to go 3 for 3 with seven walks, eight runs scored, four stolen bases and an RBI.
Bate drove in four runs, Westin and Klindt had a hit and two RBIs each and Izaac Tapia chipped in with a hit, a run and an RBI.
In 25 tournament innings, The Dalles has outscored its opponents by a 45-5 edge and outhit them by a 32-10 margin.
The pitchers, Wetmore, Bate, Klindt, Miller, Westin and Wang have also enjoyed a 22-10 strikeout-to-walk differential.
If The Dalles can defeat the SRV Americans Saturday in the semifinals, then they punch their regionals ticket.
Two wins and they add a state championship banner to the District 5 crown they earned earlier this summer in The Dalles.
Coach Herriges knows this team is not satisfied with just getting to Baker – they want to send a message.
"They want to go to regionals to see what that feels like," the coach said. "They are the district champions and it is the first time they have done that, and now they want to be state champions. With each step, they want to know what it feels like. As coaches, they are taking things right out of our hands by the way they are playing. We don't have to coach them up, they are playing an emotional style with a chip on their shoulders and it is showing this weekend."