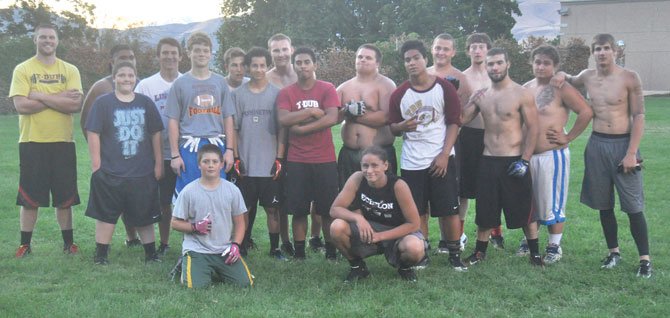 The stage was set on a warm Friday at Amaton Field.
It featured a showdown between former The Dalles football players and those who will take the mantel piece for years to come.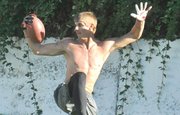 Dominique Seufalemua was rolling right firing darts to Jordan Lutu, Glenn Breckterfield, Ross Kohl and Justis Fa'amausili, while Chaise Shroll, Mike Pifer, Alex Cady, Kevin Henderson and Gabe Wilson, among others represented the grey beards of recent Eagle Indian history.
Joining the old guard from The Dalles Wahtonka were former Dufur greats D.J. Chamness, Boone Little and Bradley Newman.
So the stars were out in full display.
Touchdowns were scored, interceptions made and a three-hour session of fun was had by all.
"It's fun to play against all of these older guys," Seufalemua said. "You learn a lot from them. That's why it is important to play football in the summer. You want to get the reps and work hard to get better."
The new Riverhawks of The Dalles will be young at many positions, as 13 varsity players graduated this past June.
Second-year head coach Steve Sugg knows there will be some ebbs and flows with such a young bunch, but is looking forward to this new and fresh exciting chapter to The Dalles football.
"This is what coaching is all about," Sugg said. "You have players here who are young and inexperienced, so that means us coaches have to coach them up and prepare them for the new season. It is all a process and we realize that. Our goal is to improve day-by-day, practice-by-practice and game-by-game. If we can do that, we will have a successful season."
Both teams took turns in passing plays, in an effort to drive the ball downfield for touchdowns. Sugg called offensive plays and defensive coordinator Rich Belanger and his assistant Rick Wilson were calling the shots on the back end.
There were plenty of teachable moments, but the younger group appears to be on the right path early on, so the tutorial process will be seamless on some levels.
Sugg said there has been a core group of 12-14 underclassmen who have been dedicated to summer workouts and practices, but that he still wants to see some of the veteran players show up so the whole program hits the ground running for daily doubles on Aug. 18.
"We have not had many upperclassmen here, which has been disappointing," Sugg said. "But, our young kids are getting a lot of work and a lot of reps, so come August, they are going to be way ahead of the game. When the older kids show up, we will have to bring them up to speed in a hurry. At least that young core group has been here working hard. It shows me that they want to win."
Regardless of age and participation, Seufalemua admits that having youth scattered across the roster will bring forth many challenges for the 2014 campaign, but in no way is he going to use youth and inexperience as an excuse to not put out and optimum effort.
"Our expectations is we want to win," the sophomore quarterback said. "I know I am going to work harder because they are teams that will overlook us because we are young. Our goal is to win a state championship and that's never going to change."