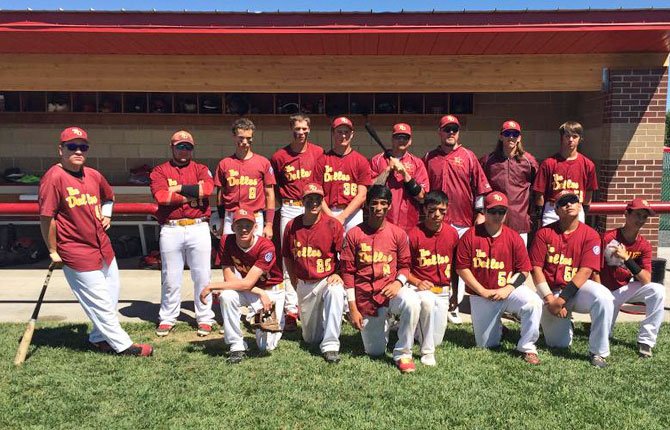 From a solid pitching output by Dylon Jinkins in the first game, a heroic effort by injured ace Tyler Westin, to a semifinals comeback Saturday and an game-ending, state-title clinching acrobatic stab by catcher Denzel Arellano, there was nothing going to stop the 15U freight train known as The Dalles All Stars.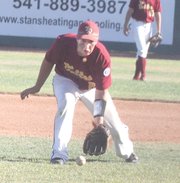 "The team chemistry is the underlining reason for our success," said TD skipper Sean Herriges. "They all believe in their role, they all performed, they took every opportunity that was given to them and they maximized it and rallied as a group. We were the best hitting team there, we were the best defensive team there and we were the best pitching team there. We were just rock solid all the way around."
In 37 tournament innings played, The Dalles outscored its opponents by a 67-12 margin and had 53 hits.
The pitching staff gave up 12 runs on 19 hits and fanned 33 in that same span.
Three of those showdowns ended in mercy-rule fashion.
Saturday, TD advanced to the title game with a 9-6 over the Snake River Valley Americans in what proved to be a test of mettle.
SRV held leads of 2-0, 4-2 and 6-5, but with the score knotted at 6-apiece in the bottom of the fifth inning, The Dalles regained the advantage for good.
Tyler Westin sparked the rally with a single. With courtesy runner Aaron Maney at first base, Preston Klindt reached safely on an error by the SRV shortstop to put runners on second and third base with one out for Tanner Herriges.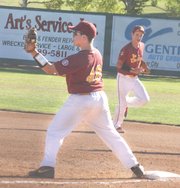 On a 1-0 pitch, Herriges rifled a two-run single to left centerfield plating both Maney and Klindt to give TD an 8-6 cushion.
Up by two runs in the home half of the sixth frame, Johnny Miller led off with a single and he moved to second on a passed ball. Dawson Hoffman then dropped an RBI single to plate Miller for a 9-6 lead.
With three outs left and a regionals berth hanging in the balance, ace reliever, Cameron Wang, went to the mound with a chance to hammer home a win.
Wang shut down the SRV squad on a popup, a groundball to short and called third strike on a slow curve to end the game and vault The Dalles into the championship game.
"I got to give credit to the SRV team. They were game," coach Herriges said. "They came ready to knock us off on Saturday, but our pitching prevailed."
Of the 12 hits put out by The Dalles, Hoffman paced the offense by going 3 for 4 with an RBI and a run scored.
Boston Bate, Westin, Tanner Herriges and Izaac Tapia, all had two hits each and combined to go 8 for 12 with nine RBIs and three runs scored.
Hoffman got the start and scattered five hits, walked four and struck out seven in his four-inning effort.
Wang allowed one hit, walked a batter and struck out two in his three frames to earn the relief win.
With the huge momentum boost of winning a semifinal game and punching a regionals ticket, The Dalles wanted much more than just second place – they wanted the whole enchilada.
In the finale, Miller went 2 for 2 with two doubles, three runs scored and an RBI and Arellano made his game-ending grab in the top of the fifth frame, as The Dalles worked an 11-1 mercy-rule victory over Union County Saturday in Ontario.
"We ended the game with the most dynamic catch I have seen in a long time," coach Herriges said. "The catcher almost ran into his home dugout and dove like he was trying to stretch for the football. He lays out on top of the concrete warmup circle and catches the ball. There was no better way to end the game. It was sick. It was euphoric. I am real excited for them."
When looking at the offensive breakthrough, once again, the top of the order of Miller, Hoffman and Arellano were the straws that stirred the drink.
That trio went 6 for 6 with five doubles, six RBIs and seven runs scored.
Miller, Hoffman and Arellano actually started the game with consecutive doubles to spark a three-run rally in the opening frame to make it 3-1.
The Dalles went on to add three more runs in the second, two in the third and three in the fourth, before Wang finished off Union County in the top of the fifth with another scoreless inning from the mound.
Wang, who earned Player of the game status, walked one, hit a batter and allowed no hits in his three scoreless innings.
"We told them going in at the first practice of the year that the state championship was the goal," coach Herriges said. "Nothing else was going to be acceptable in our eyes. We played 19U senior baseball teams that were older than us. It prepared us well to compete against teams in our own age level. It has been extremely effective."
A huge turnaround
Moments after his team lost its fourth consecutive state tournament baseball game last year, on a hot July day in The Dalles, coach Herriges had decided that this group of baseball players needed to a new voice and a new direction.
Although disappointed, something tugged at his heart strings.
He missed out coaching his oldest son, Tyler, winning state title in 2007.
Bate, TD's 15U All Star captain pleaded with his coach to come back, but coach Herriges needed some time of reflection.
Tyler's winning plaque stood in full view in the living room.
The Dalles coach did not want to miss out on another opportunity. He always believed this squad had the potential to put it all together for a deep run in 2014.
"I have to give credit to the captain of the team, Boston Bate, for dragging me out of semi-retirement, and assembling two great baseball minds in (assistant coaches) Mike Wilbur and Kenny Harris," coach Herriges said. "Without those guys, I don't know if we achieve what we do. They were new voices on the team that boys desired to hear after six years."
With Wilbur, a two-time state champion baseball player at The Dalles under former coach Steve Sugg, and Harris, a perennial all-league athlete, coach Herriges was able to focus his attention on roster and tactical duties.
Wilbur and Harris were just as important on so many other levels.
"Those guys were key to our success," coach Herriges said of his assistants. "The kids completely listened to them, which allowed me to do what I do best and that is manage the players. The technical stuff and the fundamentals all come from those two coaches. I give those guys all of the credit. They have captured the attention of the team and helped them get over the top."
A new challenge awaits
The Dalles Babe Ruth is no stranger to earning regional berths, as they made appearances in 2007, 2011 and 2013.
No TD group has never earned the distinction of claiming a regional title and a Babe Ruth World Series graduation.
Teams from Wyoming, Montana, Washington, Idaho, and Oregon await play next week in Baker City.
Coach Herriges said that just because his squad captured a District 5 crown and enjoyed state tournament glory, they are by no means fat, happy and satisfied.
The hunger remains.
The voices of their naysayers from years past still give a brutal remembrance to all of the trials and tribulations this team has gone through during their careers.
This is the chance for Westin, Klindt, Bate, Arellano, Miller, Maney and company to shut them up for good.
"They are a passionate group. Everyone wants to get to the World Series. These boys are motivated to get there," coach Herriges said. "We believe in our hearts that we can go up and win the whole tournament. The way they are playing, I have to support that 100 percent. We have everything that a tournament team needs – Chemistry, character, pitching, offense and a great defense. We have all five things. Because we have all five of those things, we do not have a weakness. I like our chances. In my heart, in my gut, I can feel it."