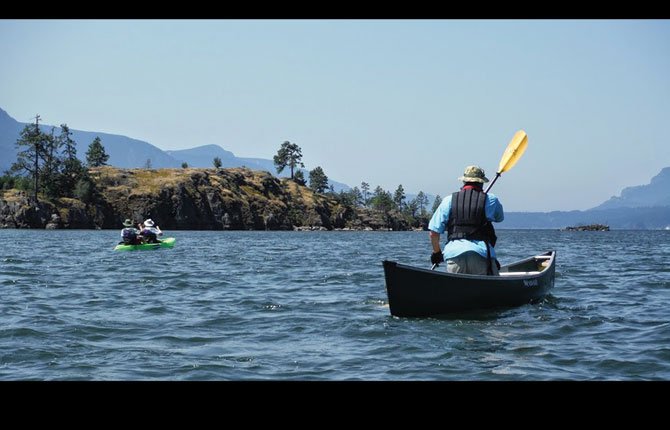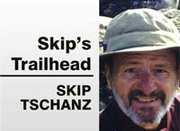 So far this hasn't been the best year for Janet and me to put our kayak in the river and go for a nice easy float down the Columbia River.
It has been either too cold, too windy or any other excuse I could think of to get out of the work of getting our kayak down off the garage wall and making it sea worthy for another summer. That came to an end last week when a group of our more energetic friends planned a great mid-summer kayak trip. Their plan was to put in at Home Valley's windsurf launch site and to go downriver to Stevenson, Wash., where we would end the day with lots of food and even more good company.
Four days before our launch date the weatherman was calling for a hot day with little or no wind. But that forecast had changed a lot by the time we were ready to go. Our supposed calm day turned out to have a pretty good west wind coming up later that afternoon.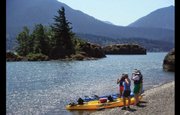 Most of our group has two people sit on top kayaks that are almost impossible to tip over let alone sink no matter what the weather. Three of our group were in canoes but they are all very experienced in the various moods of the Columbia River. Our group decision was to put the pedal to the floor, stay close to shore and make the best of the day.
There is only one place to really see the gorge and that place is from the river. Only there can you see both walls of the gorge. To the south is Shell Rock Mountain and Nesmith Point. Behind us is Wind Mountain. Down river and to the north are Table Mountain, Cape Horn and the Bridge of the Gods. We paddle past the mouth of Wind River and for a moment are tempted to just stop there but we are not a group to give up so easily on our goal.
I never knew there were so many small timber-covered islands in that part of the river. It made me want to slow down and take a better look at them. We paddled past homes that I never knew existed and we have lived here a long, long time. We watched Native Americans reeling in their nets and we got an added bonus as we kayaked through their boat's wake.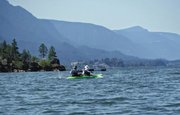 The wind came up just as forecasted. It became much more difficult to make headway. At times I was sure we were being blown back up river. Soon I was picking out landmarks on the shore and timing how long it took to paddle past them. In reality we were doing much better than I had first thought. It looked like we were going to reach Stevenson pretty much on time. I was amazed!
We reach the dock at Stevenson, haul out, load the kayaks and canoes and head to the nearest restaurant. That is what I like best. The good tired feeling of a hard workout. Good company that has shared the same adventure. Good food for the soul and a chance to plan the next trip.
Just because you are on a major river, don't forget drinking water and snacks. Use lots of sunscreen and be sure to take your life vest.