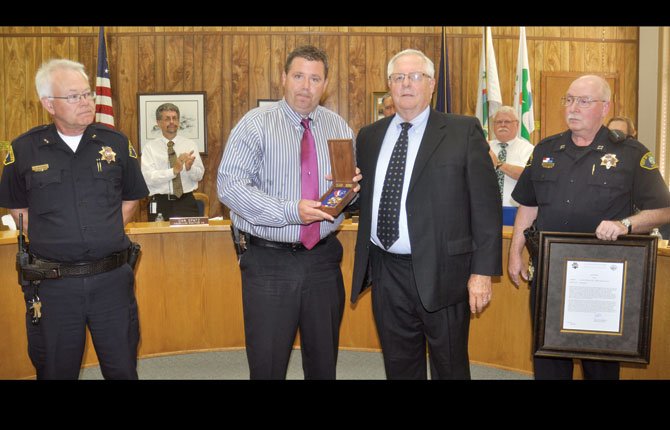 Detective Jamie Carrico has received The Dalles Police Department Medal of Valor in recognition of actions to preserve public safety that put his own life in jeopardy last year.
In an exchange of gunfire that followed an Oct. 16, 2013, foot chase, Carrico was wounded in the upper side and rape suspect, Adrian Suarez, 22, was killed.
"Thank you for being the officer you are," said Mayor Steve Lawrence while bestowing Carrico with the medal and accompanying framed certificate at the July 28 city council meeting.
Police Chief Jay Waterbury, Capt. Ed Goodman and about a dozen officers who served with Carrico were present for the ceremony.
"We're glad that you are still with us," said Waterbury after reading a summary of events to show why the medal was merited.
On the night of Oct. 16, Carrico travelled to Wishram, about 15 miles from The Dalles on the Washington side of the Columbia River.
He was conducting an investigation into the rape of a local 13-year-old girl.
Carrico and three other officers from Klickitat County arrived at a residence in search of Suarez, the prime suspect in the case.
When Suarez fled out the back door of the house he had been hiding in, he was observed by law enforcement officials to be carrying a gun.

Despite the potential danger, Carrico, who had been with The Dalles force 17 years, chased Suarez through several backyards and over fences, becoming separated from other officers.
According to Waterbury's report, the detective caught up with the suspect on a side street about a block away. Suarez then shot at Carrico, hitting him in the upper side before being killed by the detective's return fire.
A six-member jury at a Klickitat County coroner's inquest ruled in early 2014 that Carrico's action was justifiable homicide.
At that time, Waterbury said the jury's verdict that cleared Carrico of any wrongdoing was "the right determination."
Carrico was medically cleared to return to work by the end of December but was prevented from doing so by the inquest. He returned to work in late January.
"Detective Carrico's actions involving this dangerous suspect reflect his dedication to duty, tenacity and his commitment to public safety," read Waterbury at the July 28 meeting that led to a round of applause for Carrico from the audience.
In a follow-up interview, the chief said Carrico will receive the same award at the Oregon Peace Officer's Association awards conference in November.
Carrico's is the third medal of valor recipient from The Dalles department. Bill Turner, who is retired from patrol duties but works part-time as the evidence officer, received the award in the early 1980s. He risked his own life to escort people to safety following a freeway pileup of 20-30 cars during a heavy fog.
Goodman was given the medal in 1996 for heroic actions involved in the rescue of a hostage.
In March, Carrico was chosen as the Police Officer of the Year, an award that was also extended to his wife, Deanne, in recognition of her support while he was recovering from the wound.
In June, Carrico and Oregon State Police Trooper Matt Zistel were honored by Fix Auto owners Kathleen and Sky Schacht of The Dalles and Schon Kim of Gresham for their community service.
Zistel was shot in his left side Aug. 29, 2013, after pulling over a car on Interstate 84 for a speeding violation. Portland resident John Van Allen, 34, exited the vehicle to fire at the trooper and was then shot and killed.
READ NEXT TOP STORY: City delays gas tax decision