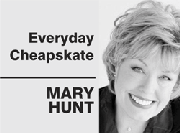 You know what irks me? Rebates. Take the vacuum cleaner for example. I bought it because with the $30 rebate, the final price beat all the competition. And I'll admit I was quite proud of myself when I crammed the receipt and rebate form into my purse. The problem is I completely forgot about it.
Just this morning I was looking for something else when I ran into it. I was stunned to discover I have only a tiny 30-day window of opportunity to claim my rebate — and 25 have passed. That got me thinking: How many people don't remember just in the nick of time? How many $30 vacuum cleaner rebates will never be redeemed? Why are they making it so difficult for me to get my money?
The rebate theory is simple. Manufacturers and retailers offer rebates to stimulate sales. We buy, we mail and they send us money. At least that's the way it's supposed to work. But the conditions can be so rigid that it becomes nearly impossible for the average consumer to comply. And that's exactly the way they want it.
Manufacturers have a vested interest in making the rebate process difficult. They're hoping we won't bother — that we'll lose our proofs-of-purchase and miss our deadlines. They're hoping to return as little money as possible. If they really wanted to give us the great deal, they'd just reduce the price on the shelf and be done with it.
The Federal Trade Commission, whose job it is to police and oversee consumer matters, estimates that at least half of all rebates go unclaimed because consumers lose the form, fail to comply with the rigid conditions or just plain forget to file. Unredeemed rebates become a windfall for the manufacturer.
So, does all this mean we should become rebate-phobic, doing all we can to avoid them in the first place? No. Just that we need to increase our rebate intelligence and then decide to bite the bullet, follow the rules so we always win at the rebate game.
Know the terms. Read the fine print before you make the purchase. Know the exact conditions and assess your chances of complying with them.
Don't procrastinate. Apply for your rebate at the earliest possible time, not the last minute.
Follow the rules. Assume that the company is trying to trip you up. Approach filling out the form and providing the required proof of purchase as you would an important test.
Keep a paper trail. It's a pain, but you need a copy of everything. If you have not received your rebate within 30 days of submission, go to work.
Follow through. If you are not satisfied, file a complaint with the manufacturer and the retailer, sending copies to your state's Attorney General and the Better Business Bureau. Above all, file a complaint with the FTC online at ftc.gov or call toll free 877-372-4357.
Save the windfalls. Instead of letting them evaporate into your daily spending, stash your rebates in a special account. Watching the balance grow will give you a greater incentive to make sure you collect every dime of every rebate to which you are entitled.
As for my $30 rebate, I sent it in. Sure hope it doesn't get lost in the mail.
Mary Hunt is founder of www.DebtProofLiving.com, a personal finance member website. You can email her at mary@everyday
cheapskate.com, or write to Everyday Cheapskate, P.O. Box 2099, Cypress, CA 90630.