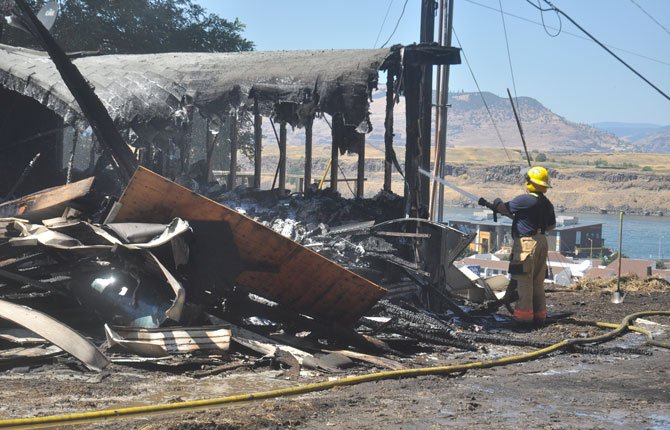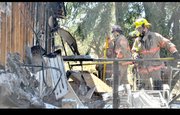 A fire destroyed the home of Miki Gaither Monday afternoon as flames engulfed the unoccupied residence at 422 Summit Ridge Drive, The Dalles.
The cause of the fire remains under investigation. Gaither, six months pregnant, was comforted by friends and family members at the scene before leaving.
Gaither's aunt, Rebecca Kochis, said she was grateful her niece had been staying with her father while a series of renovations took place in the rented home.
"It's lucky no one was there when it happened," she said. "But I know Miki's heartbroken. Her due date is only a little over three months away, and all of her sonogram pictures were left hanging on the front of her fridge. But that's all gone now."
Karen Seufert, co-owner of the property with her husband, Randy, said they had been conducting renovations on the home so it might be move-in ready by the time Gaither's baby, Annabella, arrived.
"It was my first house, and that was the house our daughter originally grew up in, so we have a lot of memories attached to it as well," she said. "It's a really sad thing to see happen, and we want to do everything we can to support Miki."
Kochis said Gaither would continue staying with her father as she works to "piece her life back together again," and encourages any interested members of the public to contribute to "Annabella's Fund," to support Gaither's recovery and the future of her daughter-to-be.
The fund is housed at Rivermark Community Credit Union, located at 1240 West 6th Street, The Dalles. Anyone interested in donating is encouraged to call Rivermark at (541) 296-3224, and ask to contribute to "Annabella's Fund."
"At times like this," Kochis said, "I think it's really important to say 'thank you.' So I want the firefighters who were out there working in 102-degree weather today to know we really appreciate all the hard work they do.
They all deserve a pat on the back, and I just want to say I'm really grateful for their service."
Mid-Columbia Fire and Rescue Chief Robert Palmer said the call came in at 12:38 p.m. and fire crews arrived on scene to combat the blaze at about 12:47.
What they found, he said, was a doublewide, single story modular home, where fire had already progressed through 75 percent of the house.
"We immediately went into a defensive attack and used the deck gun to knock the fire down," Palmer said, referring to a high-capacity water jet commonly used in manual firefighting.
Members of The Dallesport Fire Department arrived on the tail of Mid-Columbia Fire and Rescue, followed by the U.S. Forest Service, Oregon Department of Forestry and the Wasco County Sheriff's office.
One of the crew's top priorities, Palmer said, was to keep the fire from reaching the dry grasses surrounding the property.
"If it had extended into the grass," Palmer said, "the damage definitely would have been more significant."
Firefighters, however, were able to contain the blaze before that happened.
Palmer reported the majority of the fire took about 10 to 15 minutes to subdue, but the overhaul process took another 45 minutes to an hour.
Fire and Rescue Division Chief Dave Lapof said while there had initially been some confusion as to the location of the fire, this did not cause a delay in the department's response.
"A defensive posture was taken right away, and there was a fire hydrant near the house, so we had good access to water," he said Monday. "Because of where the power lines are, the PUD decided to cut one out, so many neighboring homes are without power right now."
Lapof said homeowners would receive updates on the power situation and the issue would be resolved as quickly as possible.
READ NEXT TOP STORY: Carrico honored for heroism