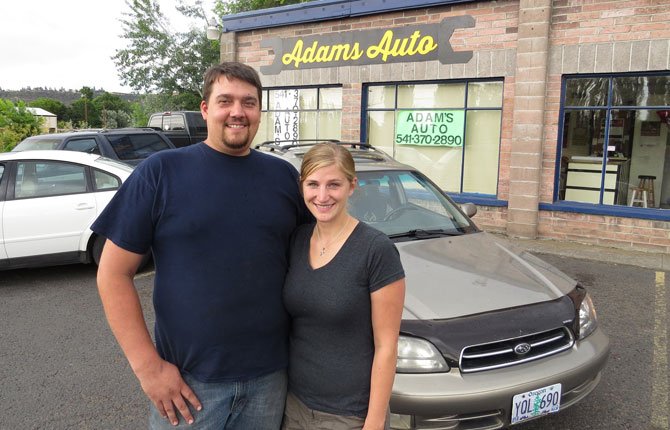 Adams Auto is now offering car repair and maintenance services at 2716 W. Second St. in The Dalles.
Adam and Rachel Knopf started the business and are taking on Matt Grier as their soon-to-be partner.
Adam grew up in The Dalles and started out at 17 as an intern in a small gas station and repair shop run by Frank Kinser. Later, he worked at the Subaru dealership in The Dalles and attended Subaru technical school. While he works on all makes and models, Subarus are a particular passion.
"We are an auto repair shop that works on all foreign and domestic cars," Adam said. He said he wants to build the reputation of the shop on honesty, integrity and affordable prices.
The shop can do work from tune-ups to minor and major repairs. The shop is ASE (Automotive Service Excellence)-certified and current, he said.
Grier also has years of experience in automobile repair.
"I've been doing this a long time through several independent repair shops locally, mostly diesel and transmission work," he said. "I can fix anything but a broken heart."
Adams Auto is also a certified air conditioning repair shop.
Rachel Knopf oversees the office functions. Her experience comes from family, she said. Her father and his father were both professional mechanics and her grandfather built war planes.
Adam urges vehicle owners not to put off required maintenance tasks.
"Maintenance is always cheaper than repairs," he said. "Oil changes and tires are real critical in the maintenance of a car and how long it's going to last. Vehicles with timing belts, for example, a lot of people put off replacement, then the timing belt breaks and they end up having to pull the head and do valve work. It gets pretty expensive pretty quickly."
Adams Auto is open from 8 a.m. to 5 p.m. Monday through Friday and occasionally on weekends by appointment. Contact them by phone at 541-370-2890.