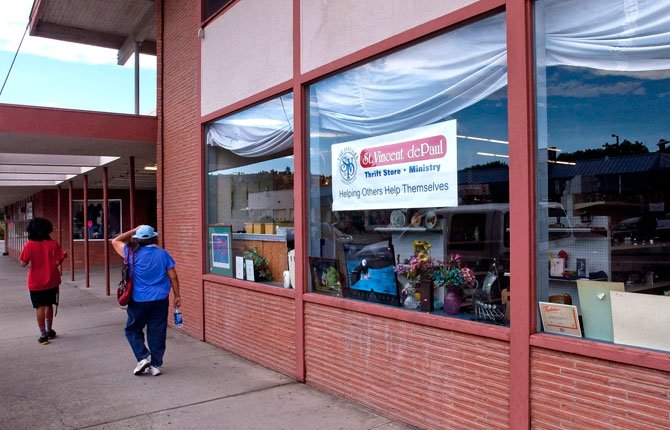 The struggling St. Vincent de Paul shut down Monday and the building will reopen in early September, after a $100,000-plus makeover. The change will occur as part of St. Vincent de Paul of Lane County, with a focus on trendy, upcycled clothing.
New management by the Eugene-based, nationally recognized entity will allow it to "bring all of the weight of our organization's access to product, including from the United Kingdom," said Terry McDonald, Lane County's executive director.
The thrift store has been struggling since Goodwill opened in The Dalles last November, experiencing reduced sales, leaders say. The store began searching for ways to stay afloat and reached out to Lane County, according to Mike Kilkenny, a local St. Vincent's board member. Lane County is a nationally known powerhouse in the retail thrift industry,
"We're just glad to be able to partner with them and be able to continue on," Kilkenny said. "Our goal is to continue to do the ministry."
Local St. Vincent ministries include providing temporary lodging, gas vouchers, food boxes and school supplies, among other services.
The building's exterior will get a facelift and the interior will be completely remodeled to create a "very different kind of processing and resale experience," he said.
Lane County's niche is scouring dumps, from Scotland to the Bay Area, and finding materials to turn into an upcycled line of products. "They're wonderful dumps" he said of the facilities throughout Scotland, including Inverness, Dundee and Edinburgh.
Lane County processes 90 to 100 tons of material per day from dumps, he said. They find "all kinds of interesting and trendy things" that give recycling a "completely different name."
The revamped store will not only retain all its current ministries, which are geared toward emergency care and help for the needy, but add more ministries, including job training, McDonald said.
All employees of the local store were laid off, and Lane County is working on hiring staff for the reopened store. McDonald said 11 to 15 full-time workers would be hired, with starting wages of $9.40 to $10.50 an hour, plus medical and dental benefits.
The reopened store will include a large, organized book department with 40,000 to 50,000 titles. Remodeling — all of which will be done by local contractors — will include redoing the floors and walls, improving the lighting, and removing temporary walls to open up the floor space for a better shopping experience, McDonald said.
The remodel will include improved bathrooms and changing rooms, and the parking lot will get striping to delineate parking spaces. The exterior will be painted, re-logoed and get some aesthetic touches, he said.
Lane County is leasing the building from the local St. Vincent's, McDonald said. The local St. Vincent de Paul approached Lane for help about two months ago, McDonald said.
Group representatives had originally talked about help on improving retail performance, but McDonald said it become clear the local store needed a new approach to retail and its ancillary parts, including job training, job placement and high school work programs.
The emergency-focused ministries of the local St. Vincent's will be joined by the jobs focus that Lane County brings.
"We're pretty well known for economic development and manufacturing and housing development and vocational service," McDonald said. "Kind of taking advantage of the strength of both organizations."
Lane County employs 500, has 150,000 square feet of retail thrift, 1,300 housing units and serves 84,000 people a year, said McDonald, who has been the executive director for 30 years.
Lane County started sourcing products from around the world 20 years ago, he said. It's able to keep costs down because it has its own trucking fleet "so we move all of our product ourselves."
"We're excited for the opportunity," McDonald said. "We're pleased to be there and we're hoping the community will help us by donating to us and help us create a much better future for the area."