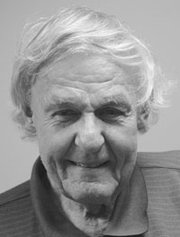 Wasco County's longest-serving Extension agent, Earl Edward "Ed" Bonham, died July 23, 2014, in The Dalles at the age of 90.
Services will be Saturday, Aug. 2 at St. Paul's Episcopal Church at 1 p.m.
In addition to his work with OSU Wasco County Extension, Bonham was a noted artist in the community, showing his work at Maryhill Museum of Art and The Dalles Art Center, among other venues.
"Ed's belief that everyone deserves art in their lives and his commitment to the development of the arts in the gorge — all the arts from the visual to the performing — impressed me tremendously," said Colleen Schafroth, executive director of Maryhill. She knew Bonham for more than two decades. "He was committed to art organizations because they brought art into the community. In that vein, Ed shared his own art with others — in exhibits, in his home, with his friends and anyone who wanted to learn more."
Bonham continued to paint until his final days, his last exhibit was less than a month ago at The Springs at Mill Creek, where he lived for the past six years. In an interview at the time, he said he couldn't imagine giving up painting.
"It's how we see our world," he said.
Friends and associates described Bonham as a fun-loving people person.
"In both his vocational life as well as his personal life, he paid a lot of attention to other people," said Rt. Rev. Rustin Kimsey, who will serve as officiant at the Aug. 2 services. "He was very, very service-oriented in his work as an Extension agent for OSU, his personal life. He was an impressive man."
Bonham was deputy to three general conventions of the national Episcopal Church and was instrumental in establishment of a unique Area Mission for the Navajo people, which later became The Episcopal Church of Navajoland. He was also a longtime The Dalles Kiwanis Club member. He received the Community Service Award from The Dalles in 1975 in recognition of his dedicated service to the community.
Bonham served with Extension for 31 years, from Oct. 1, 1955 to Sept. 30, 1986, according to records provided by Sandy Macnab, OSU Sherman County Extension agent, who worked with Bonham. He was given membership on the OSU College of Agriculture Sciences Diamond Pioneer Agricultural achievement Registry in 2002. "He had a very fun-loving, creative sense of humor," Macnab said. "You never knew when it would pop up."
He also was accomplished at recruiting volunteers.
"I think he had more people helping at events like the fair, even if they only came in for a couple of hours," Macnab said. "But he felt a lot of hands made the work more piecemeal and didn't burn out any one individual."
Macnab said Bonham was also ahead of his time where conservation and renewable resources were concerned.
Bonham organized a forestry school for sixth graders from every school in the county. The annual event took place in the forest outside Dufur near Mt. Hood. The first year drew more than 400 students.
Bonham took a different view of Extension service. At the time, Extension agents were routinely transferred every eight years or so, Macnab said.
"He was one of the first agents to fight that at OSU and also the idea that the only way he could get a pay raise was to upgrade the position," Macnab said. "He thought this was the top-of-the-world position in Wasco County."
Kim McCullough of Wasco County Extension worked with Bonham during his later years at the agency.
"Everybody loved Ed and he loved everybody," she said. "He just had the most generous, happy heart of anybody I worked for."
"Ed had a brilliant mind and did many things to promote 4-H at the county fair," said Paul Schanno, local rancher and longtime friend. "He inspired 4-H'ers to compete not only at the county level, but also at the state fair. He was also an accomplished artist, and devoted husband and father."
The Bonham family was also close with the family of U.S. Rep. Greg Walden when the Waldens lived in The Dalles. "We did a lot of family things together over the years," Walden said. "Ed was a terrific Extension agent and 4-H leader. I can't imagine how many young people's lives he had a positive effect on. He probably transcended generations. He was always engaged with kids, helping them do better. He gave back in an important way to the community."
Bonham was born in Seattle on May 8, 1924, to Earl D. Bonham and Margaret P. Coleman. Both of his parents were educators, his father a school superintendent and farmer, and his mother a high school principal. He attended elementary school in Maple Valley and Silverdale, Wash., and high school in Silverdale and Nampa, Idaho, graduating in May 1941.
He entered Oregon State University in fall 1942. He entered the armed services in March 1943 and attended ASTP at Missouri School of Mines in Rolla, Mo. He returned to Oregon State in March 1946, graduating with a bachelor's degree in general agriculture in 1950.
From 1946 to 1953, he operated an irrigated row crop farm in Nampa, Idaho.
He married Joann Patricia Agan on July 23, 1950, in Portland, Ore. They had four children, Steve (formerly married to Pam), Jim (Susan), Paul (Christine), Richard (Sharlene) and Alice (Phil). Neil d'Autremont (Mary) is an additional family member. He and his wife also had 10 grandchildren, Jennifer, Angela, Joseph, Douglas, Katherine, Nicholas, John, Molly, Richard, Ryan and two additional grandchildren by Neil, Christopher and Catherine.
In 1953, Bonham was diagnosed with lung cancer and had half of one lung removed surgically in Victoria, Canada.
Spencer, Libby and Powell Funeral Home is in charge of arrangements.
READ NEXT TOP STORY: County sets two hearings for road taxing district